Sugo on a diet
We've a soft spot here at HEXUS for small-form-factor PCs, and we like to believe that bigger isn't always better. Sadly, mini-ITX systems remain few and far between at they're yet to become widely adopted.
Indeed, when ZOTAC announced its very impressive looking GeForce 8200-ITX WiFi motherboard earlier this week, HEXUS reader Shooty questioned the availability of a suitable chassis by asking "What do you use? A biscuit tin?".
Not quite, Shooty, what you'd need is a small-form-factor chassis like SilverStone's newly-announced mini-ITX Sugo SG05.
This minuscule steel chassis measures just 218mm x 276mm x 175mm, but still has room for a mini-ITX or mini-DTX motherboard. There are two PCI slots at the rear, and if on-board graphics just don't do it for you, there's room for a graphics card up to 230mm in length.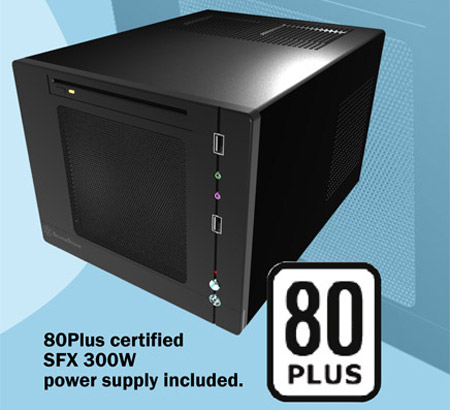 SilverStone states that Intel and AMD's standard CPU coolers will fit without a problem, and a selection of custom coolers should squeeze in too - providing they're less than 82mm tall, we're told. There's a 300W PSU included, and room for a slim optical drive, as well as one 3.5in drive or two 2.5in drives.
On the Sugo SG05's front you'll find USB and audio connectivity, and a 120mm fan hiding behind the grill. SilverStone tells us it makes for a positive air pressure design that results in little-to-no dust and enough cooling performance to keep a 130W CPU in operation.
All sounds rather interesting, we feel, and providing the fan can keep whisper-quiet, it has the makings of a useful HTPC encolsure. It'll hit retail in mid-January 2009 at a recommended price of €83 excluding VAT, and there's a handful of additional images on page two.