PRESS RELEASE
Next Generation entry-level, budget SSDNow V200 for cost-conscious consumers
Best price/ performance SSD solution in the marketplace
Includes easy upgrade kit with step-by-step DVD installation video
Sunbury-on-Thames -- November 9, 2011 -- Kingston Digital Europe Ltd, an affiliate of Kingston Technology Company Inc., the independent world leader in memory products, today announced the next generation of its entry-level, budget SSDNow V range. The Kingston SSDNow V200 brings value and performance to consumers who are looking for an inexpensive upgrade option to boost their current computer's performance and extend the life of their investment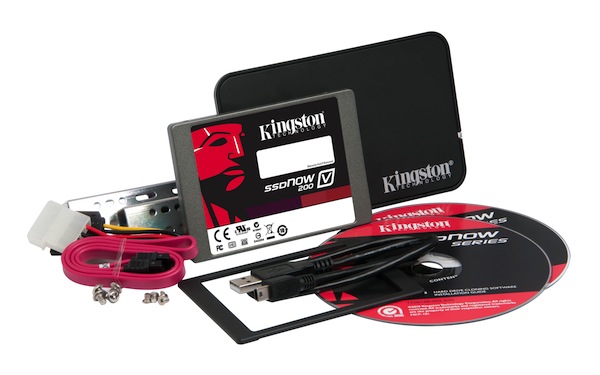 The new Kingston SATA Rev 3.0 (6Gb/s) SSDNow V200 is nearly twice as fast as the previous SSDNow V100 SSD* (figure 1). It is also up to 20 percent less in price than its predecessor SSDNow V100 drive making it one of the best price/performance SSD solutions in the marketplace1. With better performance and a lower cost, the value-driven SSDNow V200 is perfect for cost-conscious consumers who are looking to upgrade to Flash-based, hard-drive solutions for the first time.
The SSDNow V200 is available in 64GB, 128GB and 256GB capacities as either a stand-alone drive or as an upgrade kit to make installation easy. The desktop bundle kit includes the SSD, cloning software, DVD with step-by-step installation video, cables (SATA data and power), and 3.5″ hard-drive mounting brackets and hardware. The notebook bundle includes the SSD, DVD with step-by-step installation video, cloning software and a 2.5″ external enclosure for easy OS and data transfer from HDD to SSD during cloning.
Kingston® SSDs are backed by a three-year warranty and 24/7 live technical support. For more information visit www.kingston.com/europe.
* Results based on AS SSD benchmark score of SSDNow V200 128GB (257) vs. V100 128GB (144).
Test system: Intel® D67BG Motherboard; Intel 2500K CPU; Kingston ValueRAM® 4GB DDR3 1333MHz; EVGA GTX550TI Graphics Card; Windows® 7 Ultimate 64-bit with latest drivers and patches installed.
1 Price comparison based on MSRP of stand-alone 128GB SSDNow V100 at time of launch in November, 2010.
Kingston can be found on:
YouTube: http://www.youtube.com/kingstontechmemory
Facebook: http://www.facebook.com/kingstontechnologyeurope
Twitter: http://twitter.com/#!/kingstontech
LinkedIn: http://www.linkedin.com/company/kingston
Flickr: http://www.flickr.com/photos/kingstontechnologyemea/
About Kingston Digital, Inc.
Kingston Digital, Inc. ("KDI") is the Flash memory affiliate of Kingston Technology Company, Inc., the world's largest independent manufacturer of memory products. Established in 2008, KDI is headquartered in Fountain Valley, California, USA. For more information, please call +44 (0)1932 738888 or visit www.kingston.com/europe.