Interface
Following installation, Microsoft Security Essentials downloads the latest virus and spyware definitions from the Microsoft Update Center. Once done, you needn't update again - Security Essentials will keep its virus definitions updated in real time, and program updates will be pushed through Windows Update.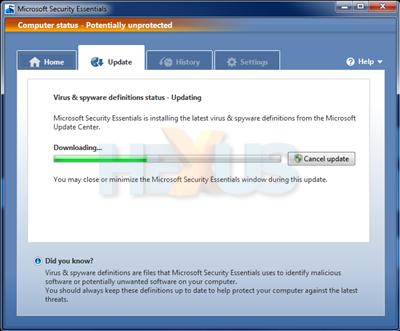 With the software up to date, the Security Essentials home screen sports a basic interface with four tabs; Home, Update, History and Settings.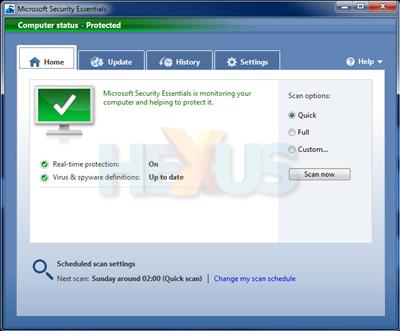 The Home tab, pictured above, provides a quick at-a-glance overview of system health, along with the ability to perform a quick, full or custom scan. A quick scan on our test system took place in approximately seven minutes, and had little-to-no impact on overall system responsiveness.
As with OneCare before it, Microsoft Security Essentials uses three simple colours to denote system health. Green indicates all is well and "protected", yellow hints at out of date definitions and suggests that the system is "potentially unprotected", and red claims that the system is "at risk" - you'll see red should the software detect a threat.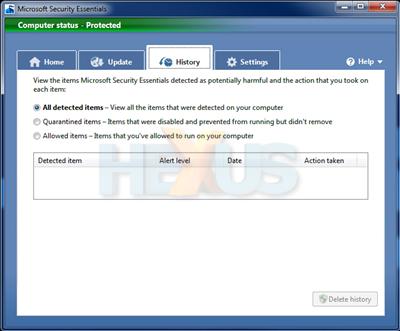 The History tab lists all previously detected, quarantines or allowed items. Not a whole lot of action on our test system, touch wood.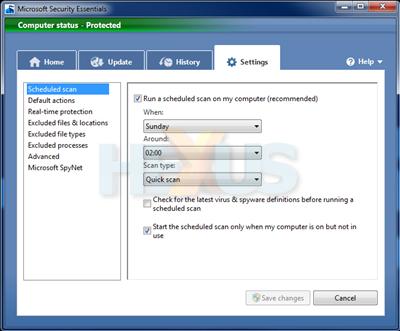 Keeping it fairly simple, the Settings tab allows for basic configuration options. A scan can be scheduled to run at specific times, and optionally only when the computer is on but not in use.
In its default configuration, Microsoft Security Essentials is set to perform a quick scan each Sunday, real-time protection is enabled - including scans for all downloaded files and attachments, and users are provided basic membership to Microsoft SpyNet, allowing for threat information to be sent to Microsoft. That doesn't include information that's able to identify you, but advanced SpyNet membership is an option if you're willing to accept that "personal information might unintentionally be sent to Microsoft".