The chipset

The 790GX chipset is a badly-kept secret, so much so that we saw a Biostar board at COMPUTEX this year.

We know that it's based on the 780G chipset, albeit with extra features and power tacked on top, so head on over to our reference look to familiarise yourself with what makes the incumbent tick.

790GX, then, is more of the same, but also slightly different at the same time.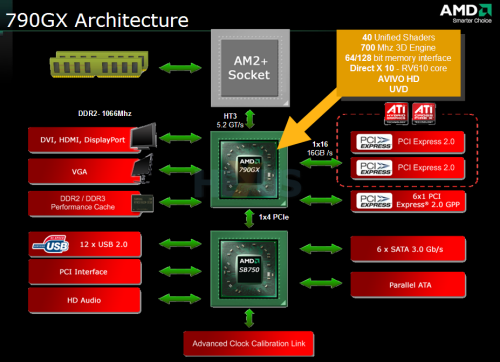 Faster IGP

780G's Radeon HD 3200 IGP, based on the discrete Radeon HD 2400 GPU, ran at 500MHz core and shared memory from the system's. 790GX's IGP, known as Radeon HD 3300, which is otherwise identical, pushes the core speed to 700MHz - an increase of 40 percent.

The rendering framebuffer is still taken from system RAM, but AMD is encouraging partners to run with performance-enhancing SidePort memory - where a 64MB/128MB DRAM is installed on the motherboard - that's interleaved with main memory for greater bandwidth (speed) and, potentially, lower power consumption: win-win for a few dollars more.

AMD reckons that the IGP has finer control over the voltage and speed settings - PowerPlay - when compared to 780G, resulting in an up-to 3.1W saving. The benefit, it says, is down to BIOS and driver improvements. 

AMD 790GX boards will likely ship with DDR3 SidePort memory operating at 1,333MHz, although DDR2 remains a lower-cost option.

The guts

790GX also adds in a second x16 PCIe 2.0 physical slot for running two-card CrossFireX, albeit in x8 mode when two cards are installed. Coupled with the IGP and up to two Radeon HD 3470 cards, any combination of two GPUs can be run - be they two discrete cards, or the IGP and one discrete card, via Hybrid CrossFire. Of course, any two family-matching Radeon HD cards can be used for discrete CrossFireX, but choose a GPU any higher in the range than a Radeon HD 3470 and you'll lose the Hybrid ability.

We note that AMD is still to implement an NVIDIA-like 'Hybrid Power' feature, where the power to the discrete is turned off when processing takes place on the IGP.

In terms of external video connections, six display outputs are possible, assuming that three GPUs, including the IGP, are housed in the system. You can't leverage all six at once, of course, but an eclectic range can be canvassed, from DisplayPort to humble VGA.