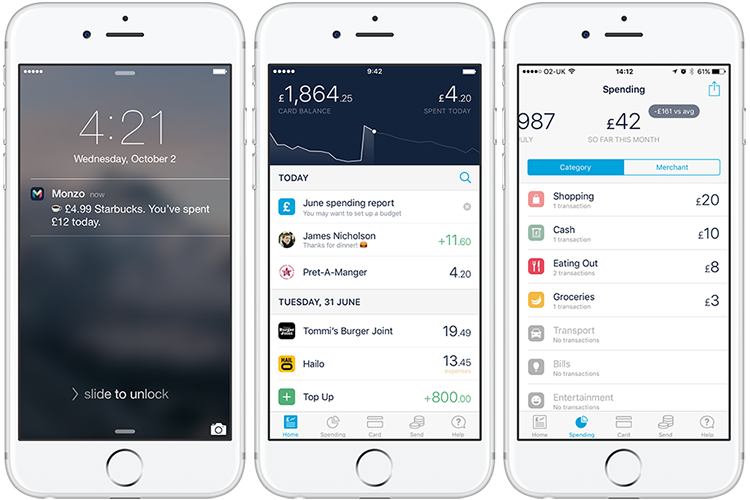 Could 2017 be the year in which consumer banking truly joins the mobile revolution? With traditional high street branches disappearing from many towns and villages, there's a far greater call for smartphone-based banking and less reliance on cashiers and the traditional hole in the wall. I'd decided a few years ago to switch to First Direct, an online- and telephone-based bank that has since served me well.
Fast forward to today and there are a number of new players on the scene, most notably tech start-ups such as Monzo, who claims to be "building the best bank on the planet." Based in London and currently employing a team of around 60 people, Monzo is one of many emerging smartphone-based banks who hopes to lure today's connected consumers toward a service that's "powerful, fast, and beautiful."
Barclays and co. won't be shaking in their boots - after all, every bank now comes with an app - and Monzo doesn't yet offer a current account, let alone mortgages or loans. But the idea of smartphone-based banking certainly holds promise.
Built from the ground-up to meet the expectations of today's smartphone generation, Monzo focuses heavily on real-time data. Users receive an instant notification whenever a payment is made - no more of that "pending transaction" nonsense - and it can summarise spending based on location and category. User-defined spending targets can help you keep to a budget, so you can find out how much those Starbucks lunches are actually costing, and there's also the lure of zero charges when spending abroad.
Yet it arguably isn't the feature set that holds services such as Monzo in good stead. It's the hype that these 'banks of the future' are managing to generate. They're positioned as a cool and modern alternative aimed primarily at a smartphone generation awaiting the next big app. It's no surprise that Monzo has already surpassed 100,000 users but there are question marks. Do you really want a bank collecting more data on your spending habits? And would you feel comfortable putting your hard-earned in the hands of a tech start-up? Share your thoughts using the comments facility below.