Introduction
The state of play

Today is an interesting day if you're a keen observer of developments in the ultra-high-end graphics-card space. Why? Because Sapphire's launching the fastest-ever Radeon HD 4870 X2 card, the HEXUS-reviewed ATOMIC, that couples class-leading frequencies to a dual-purpose cooler that enables single-slot cooling on the GPUs and, further, concurrent cooling for either LGA775 (Intel) or AM2 (AMD) CPUs - a multi-functional solution that's different from the rest.

High performance comes at an almost too-prohibitive cost, with the package set to retail for around £550 ($700), so whilst Sapphire is to be genuinely applauded for doing something different with the ATOMIC, its very price puts it out of the reach of the many.

Now, Sapphire's announcement isn't lost on arch-rival NVIDIA at all. Rumours began to surface last week that NVIDIA was preparing its own dual-GPU high-end card, to take back the performance crown that was so aggressively ripped out of its clutches with the arrival of Radeon HD 4870 X2 in August of this year.

NVIDIA has now officially confirmed the existence of the GeForce GTX 295, and, funnily enough, has chosen today to divulge tasty morsels of pant-wetting info. Talk about festive spirit, huh?

The player of games

The GeForce GTX 295, then, is a dual-slot-taking card that, essentially, carries two GeForce GTX 260 GPUs - with a difference.

NVIDIA has been able to put two - face-to-face, presumably - on a single card because the manufacturing process has been dropped from 65nm to half-node 55nm. Along with a few undisclosed architectural tweaks, the package draws a maximum of 289W, which is a touch lower than the also-twin-GPU Radeon HD 4870 X2. We're adamant that NVIDIA would not have been able to do this, with sensible cooling, if it'd used 65nm-based GPUs.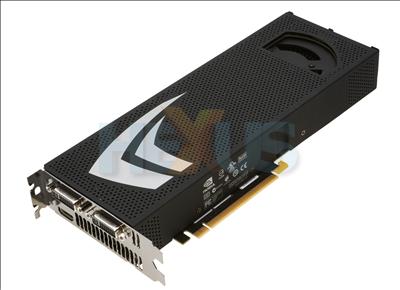 All images courtesy of NVIDIA


No doubt we'll see 55nm-based GeForce GTX 260 cards pop up soon, too, but this is the big-daddy GTX 295 in all its glory. Actually, it's the same size as a GeForce GTX 280; I was just getting carried away by hyperbole.