ARM Mali
Smartphones and tablets of 2016 are almost unrecognisable from those of just five years ago. Now boasting full-HD (or better) screens, high-resolution video decoding and ability to process games at a quality level comparable to consoles of the last generation, the designers for the graphics component of these thin-and-light devices have an almost impossible task.
Just think, your tablet is able to play some lovely-looking games without too much fuss; you expect the same level of graphics experience on a smartphone that is often available on a much larger form-factor console, and you want it all in a fanless, energy efficient package that lasts all day on a single charge.
These are the difficulties facing GPU designers of today. And it's not just at the premium end of the market that such attributes are required; mainstream phones and tablets of tomorrow are expected to offer these extraordinary experiences. ARM is solving this considerable engineering challenge with its Mali GPUs.
The latest Mali technologies are based on what is known as the Midgard architecture, now in its fourth generation, and it is headlined by the Mali-T860 and Mali-T880 GPUs that will ship with the premium handsets and tablets this year. Time to take a closer look.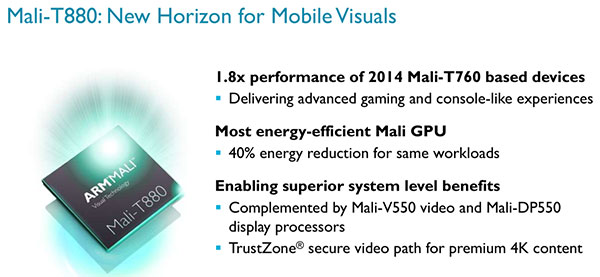 The ever-escalating processing demands imposed by increases in resolution across all segments of the mobile market means that ARM has to continually push the performance envelope from one generation to the next. The best product from the previous stable, Mali-T760, is found in leading-edge smartphones such as the Samsung Galaxy S6 Edge, Acer Liquid Jade S, and Sony Experia E4g, and it offers excellent performance when running console-class games at high resolutions.
The next iteration, Mali-T880, offers up to 80 per cent more performance. What's more, it's 40 per cent more power efficient for the same level of performance, meaning that the phone or tablet will last longer or provide even more immersive graphics.
A key facilitator of this improved performance or energy efficiency is a number of ARM technologies that reduce memory bandwidth utilisation. Remember that accessing the devices' memory is a very power-hungry method of gaining performance, so the less that it's used the better the battery life. Thinking about it a different way, the energy saved by these technologies can be harvested for more performance... and that's exactly what ARM does with the Mali-T880.
Mali-T880 supports all the latest video standards such that a tablet or smartphone can run the same types of games found on consoles. Want to play games built with the ultra-realistic Unreal Engine 4? No problem on Mali-T880.
The Mali-T880 architecture is configurable between one and 16 cores depending upon application and intended device, and it's this scalability that makes it an excellent fit for a wide range of smartphones and premium tablets.
So just how impressive is the 16-core version of the Mali-T880 GPU? GFLOPS is often a measure used to define the raw processing power of a chip, which has a reasonable bearing on the level of graphics quality available. Mali-T880 MP16 is reckoned to produce around 450GFLOPS of compute performance, compared to approximately 250GLOPS for the Xbox 360 and PlayStation 3 consoles.
Of course, comparing sheer throughput is only part of the graphics story - akin to comparing the raw horsepower of engines - but what's undeniable is that ARM has shoehorned an incredible amount of performance into a chip that consumes a few measly watts. The term 'console-class' graphics is no longer a hyperbole in mobile circles.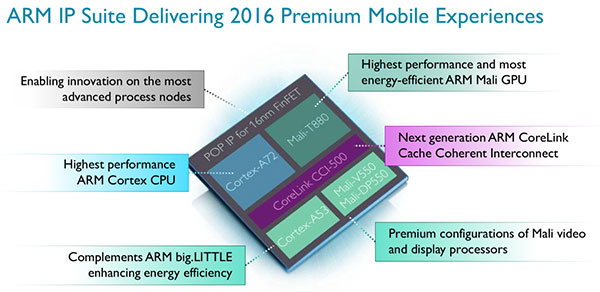 But Mali is not all about graphics. In concert with the new 800-series GPUs ARM has also updated the video and display blocks. The new Mali-DP550 block's main purpose is to enable power-efficient, secure transmission of protected video from source, through the SoC chip, and to the display. The bulk of this technology has been harvested in the acquisition of Cadence's PANTA cores last year.
On the video side of things the big news is that the Mali-V550 adds in hardware-based assistance for both encode and decode of the nascent H.265 (HEVC) standard. ARM tends to add hardware support when there's enough industry inertia for it to make sense, so while competitors have experimented with the bandwidth-saving H.265 video compression technology in both software and hardware to date, ARM believes that now is an opportune time to put it into SoCs that, particularly in the form of tablets, will be driving H.265 video.
You, the consumer, can genuinely look forward to realistic-looking, immersive games in your next premium smartphone or tablet that's powered by ARM technology.