A few low quality screenshots have been leaked onto the internet via Nokia fan site Nokia Innovation. The screenshots are said to show Windows Phone 8 Apollo running on a test device. The images show new features within Apollo including the following;
Skype integrated
Nokia Drive 3.0 (for Nokia only)
New camera UI
Native data monitor with live tile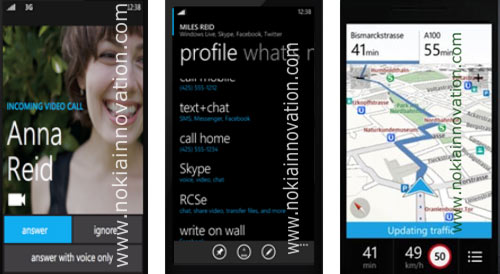 The first set of screenshots, above, show two Skype screenshots and one of Nokia Drive. The Skype screenshots show the user interface allowing Apollo users to accept a video call with video or just as a voice call. In the social/communications list you can see RCSe listed just below Skype, this feature is the Rich Communication Suite said to be a major part of WP8. The next screenshot above is of Nokia Drive 3.0 and you can see it is "Updating traffic" the app is capable of re-routing depending upon traffic and is bundled with Nokia branded phones for free.

This second set of screenshots, above, shows the new standard camera interface, the "DataSmart" monitor and the Apollo home screen. The camera interface is very simple, on the left you see a zoom slider, on the right just two other on screen buttons, one supposed to be the new "lenses" button. Extra options are found under the ellipsis. The shutter button is a hardware button on Windows phones.
The DataSmart function looks useful, especially if combined with a live tile to keep an eye on data, use for people who need to do so. Finally the last screenshot shows the Apollo home screen, which looks like the Mango home screen with its "Metro" tiled interface.
We have the Microsoft Windows Phone Developer Summit in San Francisco starting in exactly a weeks' time so hopefully all these things will become a little clearer. "A sneak peak of the future of Windows Phone" is supposed to be on view at the show, starting 20th June.