Microsoft's Windows Phones are outselling iPhones in the Chinese and Russian markets. Though Windows Phone was only launched in China 2 months ago it has surged to 7 per cent market share compared to 6 per cent for iOS. Android is still top dog in China with 69 per cent of the market.
Meanwhile in Russia figures from their largest mobile operator MTS have been released that paint a similar picture to the Chinese results. In the Russian results Windows Phone accounted for 8.2 per cent of sales compared to 7.3 per cent for iOS devices. The leading sales for Q1 2012 in Russia were Symbian, Android, and then Bada OS based smartphones at 38, 35 and 11 per cent respectively.
Michel van der Bel, COO at Microsoft China expects growth to continue and also mentions a phablet like the Galaxy Note in the pipeline to use the Windows Mobile OS. "Our smartphone and PC-tablet hybrid, which is suitable for the consumer, but also easy to insert in an existing business infrastructure. This allows us better than most competitors respond to the consumerisation of IT."A pen enabled phablet with Microsoft office sounds quite an attractive proposition.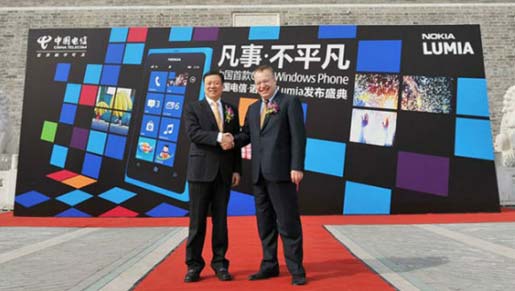 To help expand the Chinese Windows app store with quality apps Microsoft China currently employs 2,500 people in their R&D offices. Chinese users are said to be pleased with the Metro interface and the way the large colourful blocks work well with the Chinese character set compared to other OSes. Actually English speaking users are also very happy with the look and feel of Windows Phone Mango including the co-founder of Apple, Steve Wozniak. We await new figures for Windows Phone penetration in Europe and the US to see if this outselling iPhones is a global trend.