IDC has just published its tablet sales findings for Q4 2012. The headlining fact was that sales of tablets worldwide "outpaced predictions" with a total of 52.5 million units sold worldwide in Q4 2012. That's a year-on-year market growth of 75.3 per cent. While Apple continues to dominate the market, its lead has slipped in terms of share. At the same time arch-rival Samsung experienced a whopping 263 per cent year-on-year growth in tablet sales.
Research Director, Tablets, at IDC, Tom Mainelli said about the findings; "We expected a very strong fourth quarter, and the market didn't disappoint. New product launches from the category's top vendors, as well as new entrant Microsoft, led to a surge in consumer interest and very robust shipments totals during the holiday season."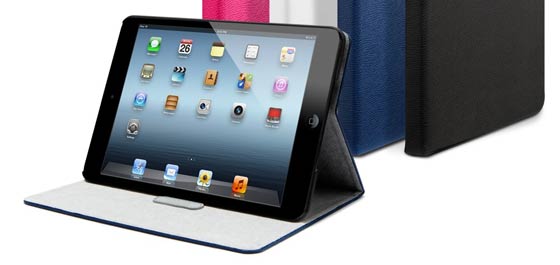 Apple sells a lot more but its share of the market is down.
Let's look at the figures for the two major rivals one at a time. Starting with Apple, the company did keep hold of the majority of the tablet market. While this share slipped from 51.7 per cent in Q4 2011 to 43.6 per cent in Q4 2012 its shipments were up a satisfying 48.1 per cent because the tablet market has grown so strongly.
Analysts believe the "strong iPad mini launch" and iPad 4 becoming available helped Apple grow sales over the period.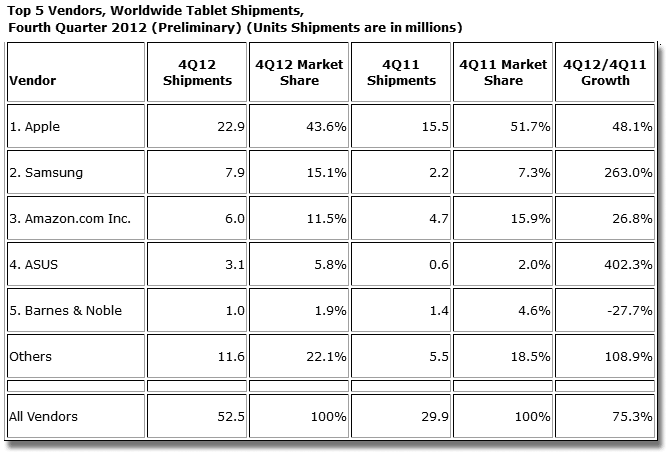 Samsung sales and share both grow significantly
As you can see from the table above Samsung are still quite a long way behind Apple in both sales and share of the market. However the Korean electronics giant experienced stellar growth in 2012 and its tablet shipments are up over 260 per cent on the year before. Samsung offers a much wider range of tablet form factors and prices than Apple, this was especially true before the recent launch of Apple's iPad Mini.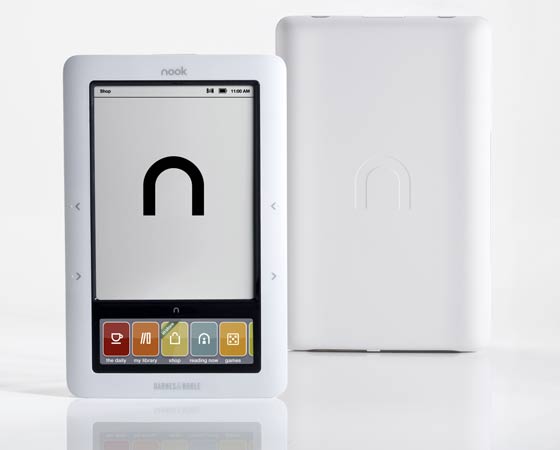 Scratching the Surface
You can also see in the table the market shares of Amazon, ASUS and Barnes & Noble. Where is Microsoft? According to some figures out recently Microsoft's Surface has sold much less than the Barnes & Noble tablet's one million figure. IDC Analyst Ryan Reith said "reaction to the company's Surface with Windows RT tablet was muted at best." An article yesterday on ComputerWorld said the Microsoft Surface RT has sold "at most 750,000, with very high return rates".
Tablet sales are quite a contrast to those in the PC market which saw 4th quarter shipments decline for the first time in 5 years.