Samsung is set to launch a trio of tablets at the upcoming Mobile World Congress 2013 in Barcelona next month. These tablets are going to come in the following screen sizes; 7-inch, 8-inch and 10.1-inch and currently go by the code names Santos, Roma and Kona.
According to the rumours the 7-inch tablet will be called the Galaxy Tab 3 7-inch, as it succeeds the Galaxy Tab 2 at that same screen size. Similarly the Galaxy Tab 2 10.1-inch should be succeeded by the Galaxy Tab 3 10.1-inch. More interestingly we have the Samsung Galaxy Note 8-inch tablet set to be revealed. (more details below)
Pricing of the new 7-inch and 8-inch Samsung tablets has been sniffed at by Taiwan based DigiTimes which suggests that the smaller model will retail as low as US$149, while the 8-inch Note tablet will retail for between US$249 and US$299.
Unfortunately we don't have any indications about the specs of the new Galaxy Tab 3 range.
Samsung Galaxy Note 8-inch seen in the wild
We wrote about the Samsung Galaxy Note GT-N5100 / GT-N5110 8-inch stylus packing tablet on Monday and revealed a spec list comprising a combination of "confirmed" and rumoured facts and figures. Since that time some more juicy tidbits showing the Galaxy Note 8 have come to light. Below you can see a "leaked slide" courtesy of TechnoBuffalo.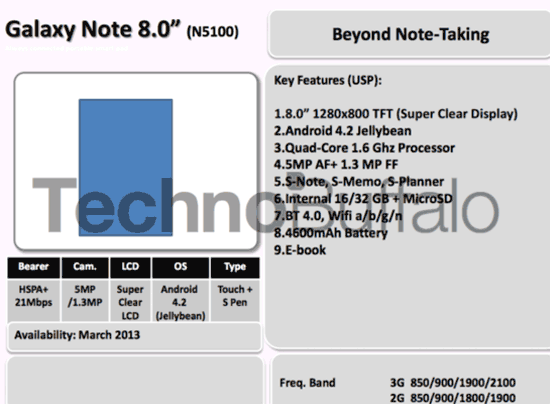 In addition to the slide above there are a series of pictures of the upcoming Galaxy Note 8. I've compiled them into a little montage below for your convenience but you can go and see larger pictures and a lot of translated blurb upon the Italian website of DDAY.it As you can see the Galaxy Note 8 features the curves of the latest current Samsung Galaxy SIII and Note II smartphones.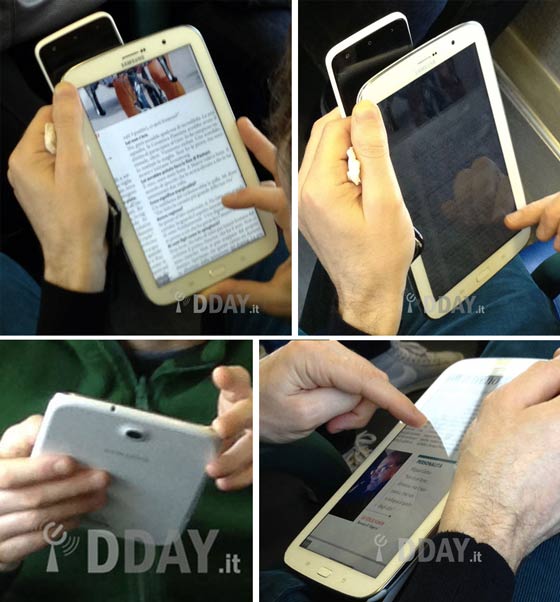 As usual, please take these reports with a pinch of salt as the specs, slides and pictures aren't verified by Samsung.