The latest entry to the super competitive tablet market is aiming its device squarely at your kids. The world's number one toy retailer Toys R Us has revealed details of its new Wi-Fi enabled tabeo tablet. The tableo, priced at $149.99 in the US, is a Toys R Us store exclusive and will feature "50 free preinstalled apps that were carefully selected to entertain and educate children, while helping them explore the Internet".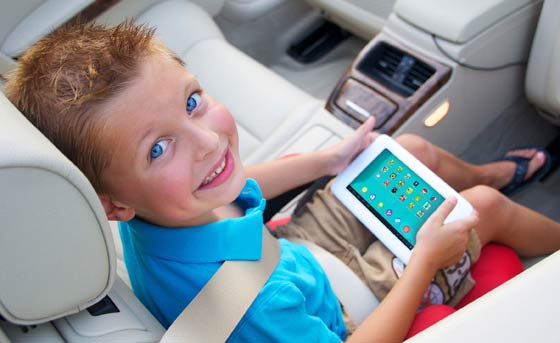 Here are the specs boys and girls;
Screen: 7-inch capacitive LCD touch screen, 800x480 resolution
CPU: 1GHz ARM Cortex A8
RAM: 1GB
OS: Android 4.0 ICS
Storage: 4GB with MicroSD slot expansion capability (SDHC cards up to 32GB)
Interfaces: Micro USB, Mini HDMI out, Wi-Fi 802.11 b/g/n
Other: built in speaker, microphone, G-sensor and front facing camera, silicon bumper included
Battery life: 10 hours normal use (6-7 hours video playback or 35 hours just playing music)
Weight: 380g
Dimensions: 223x142x12.2mm
Price: $149.99
Launch: 21st October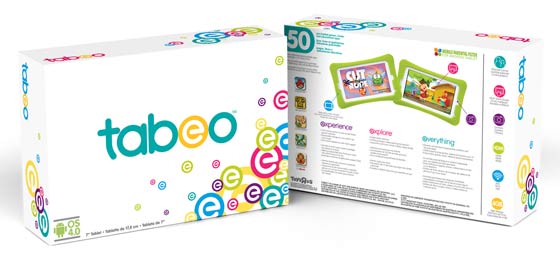 Because of the child-friendly focus of this device parental controls are a highlighted feature of the tabeo. The Toys R Us press release says that "Adults can easily set tailored levels of security for up to eight users, allowing children of multiple ages to access different types of content. tabeo's filter can be set to block 27 predetermined categories of content, and parents can choose additional sites to block and can select specific online content to unblock." Also as parents have to watch the amount of time their children spend glued to these devices there is a scheduler which "can be set to only allow access on certain days or during certain hours."
Looking at the apps now, Toys R Us has carefully selected and pre-installed 50 of them to "to entertain and educate children". The 20 or so games include "Angry Birds, Fruit Ninja, Cut the Rope, Temple Run, 100 Floors, Collapse!, Tiki Golf," and more. Half this number of education apps are pre-installed and these include "AlphaTots, Discovery Kids Putterbugs, Operation Math and TechCalc." Entertainment apps and e-books are also featured in the tabeo library.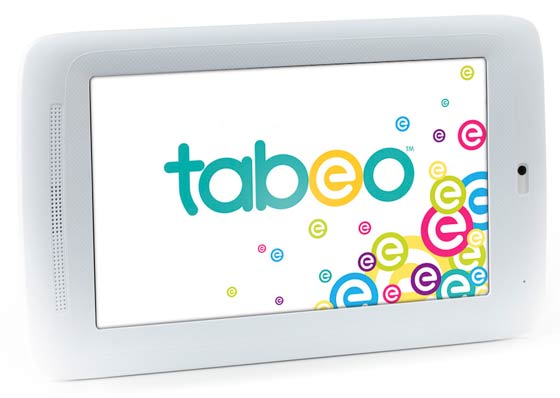 Part of the tabeo experience will be using the tabeo app store "walled garden" where pre-screened and approved child friendly apps will be available for you and your children to browse and download. Currently there are over 7,000 free apps "along with thousands of apps available for purchase". Toys R Us also will have a range of colourful branded bumpers, cases, docks and cables available for the tabeo at launch.