The new smaller version of the iPad will be released in October, people "familiar with the plans" told business and finance focussed news site Bloomberg. The sources were from two screen coating manufacturers in Taiwan. This new addition to the iPad family will have a 7.85-inch screen supplied by AU Optronics of Taiwan and South Korean company LG Display. Current iPads have screens with a 9.7-inch diagonal.
It's a small world
Bloomberg is one of many new commentators that believe Apple have to make a smaller, and cheaper, iPad to fend off the hoards of competitor devices about to flood the market. Looking at big name competitors we have the ASUS Google Nexus and Samsung 7-inch tablets already on the market and Amazon about to put out a new Kindle Fire. Windows 8 based tablets are going to be springing up in many sizes and prices soon too.
During Q2 2012 Apple held about 70 per cent of the tablet market, selling a total of 17 million high-margin iPads. Having to cannibalise its own market by introducing a smaller, cheaper device must be a bit heart wrenching for Apple - but better that than leave the 7-inch market to the competition. For many people a 7-inch screen offers a great balance between viewability and portability.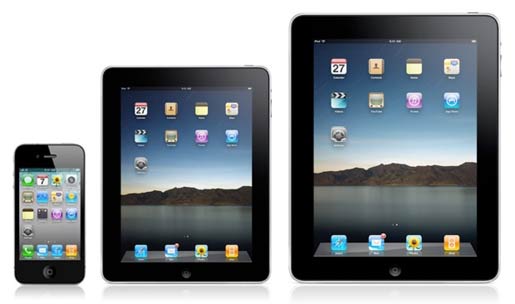 iPad mini is a mashup of spare parts
Macworld and c|net both have stories citing a blog post by Instapaper's Marco Arment. Late last week Mr Arment noticed some new entries in Instapaper's device stats. The devices identified themselves as iPad2,5, iPad2,6 and iPhone5,1. The highest previous model iPad 2 is the 32nm chip version of the iPad 2 with better battery life, identified in device logs as iPad2,4.
Mr Arment deduces the iPad2,5 and iPad2,6 are the new iPad mini machines in Wi-Fi and GSM configurations. "…this suggests that the iPad Mini is, effectively, an iPad 2: an A5 with 512MB of RAM and enough GPU power to drive the Gruber Display, but not a Retina Display" he adds. Apparently this is a "textbook Tim Cook supply-chain move: selling the last generation's hardware at a lower price point to expand market share" he continues "But this time, it's more dramatic. Rather than just sell the original iPad 2 with a price cut, they've made a new product designed to be far less expensive from day one by combining old and new parts: the 32nm iPad 2's guts, larger-cut iPhone 3GS screens, a smaller case and battery, and the new iPhone's low-power LTE chip for $100 more."
Finally Mr Arment guestimates that most important metric; price. He reckons the iPad mini will be available for sale at US$250, with Apple still able to make their customary fat profit margin. We reported here at HEXUS at the beginning of July that an iPad mini would be launched in October at about US$299, which seems pretty accurate looking back. Analysts writing at that time thought the new smaller format and price would be particularly attractive in the huge Chinese market and that is one of the main reasons for its development.