Sony's replacement/update/refresh for the current Tablet P and Tablet S Android tablet models has been leaked online in a series of slides published on well known Android and Windows Phone device forum XDA-developers. The new Xperia tablet will be thinner and lighter than the current Tablet S. The internals are also improved as it utilises a Tegra 3 CPU and comes with Android 4.0 or later installed.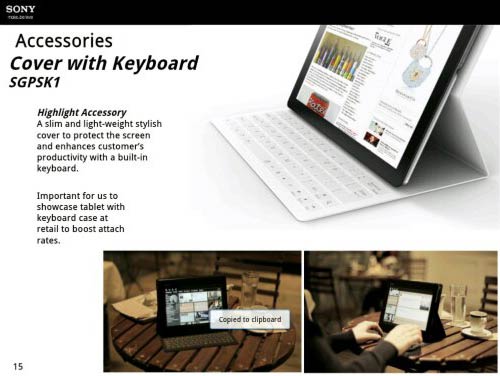 Specs revealed in the leaked slides;
CPU: Tegra 3 quad core
Display: TruBlack 9.4 inch 1280x800 pixels
Size: 11.85mm at its thickest point, folded magazine shaped tablet 241 x 8.8/11.85 x 174mm
Weight: 570g
Storage: choice of 16, 32 or 64GB versions + SD card slot
Battery: 6,000 mAh for approx 10 hours Wi-Fi browsing
Video out: DLNA throw streaming, optional HDMI dongle ($30)
Camera: 8 megapixel main camera plus front facing 1 megapixel camera
Networks: Wi-Fi a/b/g/n and Bluetooth 3.0, 3G
Sensors: ambient light, gyroscopic, GPS, compass and accelerometer
Software: Android 4.0 ICS or better, Sony Entertainment Network, PlayStation certified, Guest mode
Accessories: Dock speaker, dock stand, cradle, simple stand, carrying cover with keyboard, HDMI and USB host cable
Recommended prices: 16GB = $450, 32GB = $550, 64GB = $650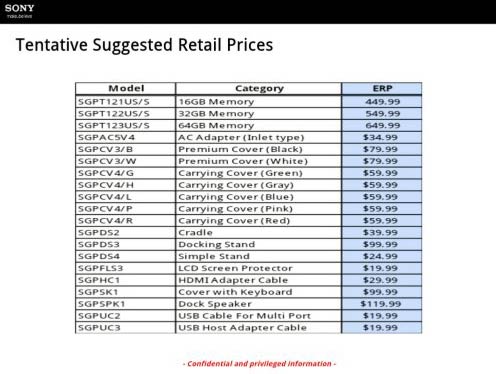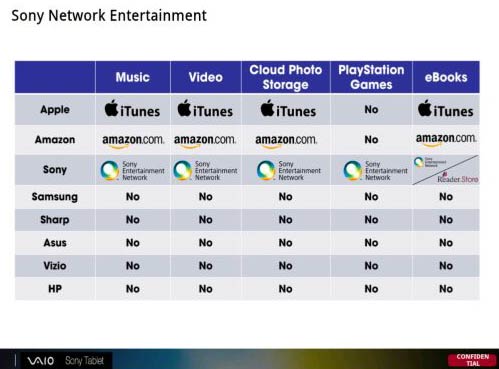 The new Xperia tablet follows the styling of the previous Tablet S in its folded magazine taper. However the new version is both thinner by 42 per cent and lighter. The aluminium body is splash proof and eye catching. To differentiate their tablet further from the rest of the Android pack Sony puts emphasis on the Sony Entertainment Network comparing the Xperia tablet to the Apple iPad and Amazon Kindle Fire. Of course Sony has a strong suit to play in the gaming area with the PlayStation brand.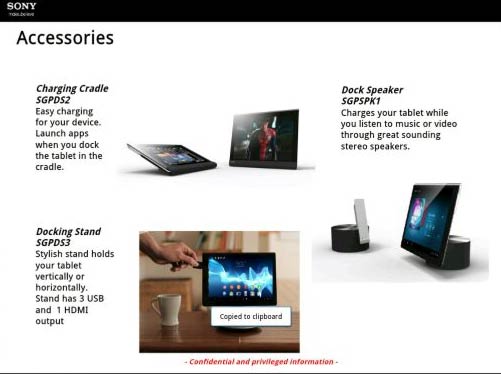 It's good to see a well thought out selection of accessories in the pipeline to accompany the new Xperia tablet. The beautifully designed samples in the leak remind me of the easy-on-the-eye design Sony used to overpower rivals several years ago. The cover with a built in keyboard and kick stand is very similar in appearance to the Microsoft Surface design. I wonder who designed theirs first and if there will be any legal shenanigans to come regarding this. The pricing suggestions don't seem to be outlandish; the tablet is powerful and expandable with good connection options, even if you need to spend $30 on the HDMI adapter. There are many more pictures on XDA if you are interested in this tablet and want to see more.