The 16GB Asus Google Nexus 7 tablet is back in stock at the Google Play Store. A week ago we reported the change of the 16GB unit status from "in stock" to "coming soon". It was thought that despite Google's expectations that the 8GB unit would hit most users' sweet spot, savvy buyers bought the 16GB version knowing about the lack of SD card storage expansion. Demand for the 16GB model clearly exceeded supply.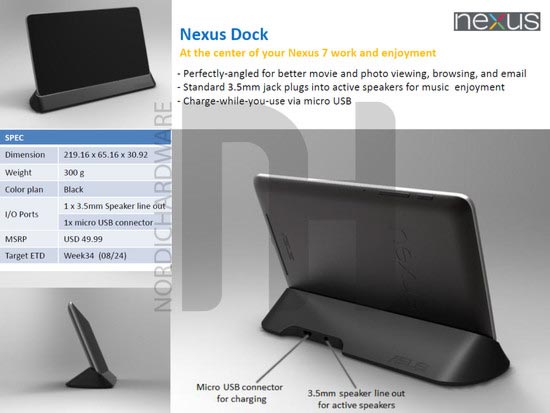 Yesterday Google sent out the email to those people who asked to be notified when the 16GB Nexus 7 would be back in stock. It read "We know you've been waiting patiently to get the new Nexus 7 (16GB) tablet. Good news! It's back in stock on Google Play and we wanted to make sure you heard about it first." Meanwhile UK Nexus 7 buyers have been eating up stock of the 16GB unit from retailers such as Tesco (with a number of discounts applied) and John Lewis (for the 2 year guarantee, but sold out yesterday).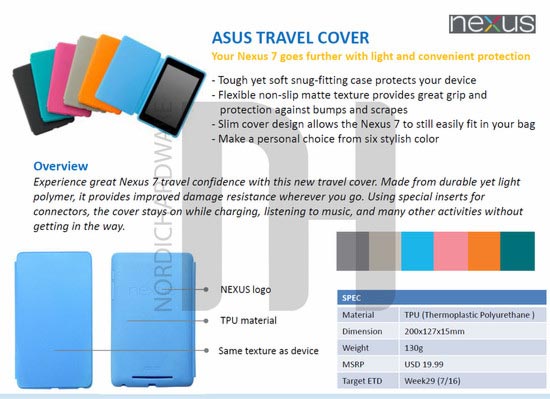 Accessories coming to the Nexus 7
Accessories for the Google Nexus 7 should sell like hot cakes if they follow the example of the tablet itself. But where are they? Thanks to Nordic Hardware we have quite a few details of accessories made for the Nexus 7 including (US dollar) prices. The Scandinavian tech site managed to get hold of some presentation files showing off the following;
Nexus 7 dock - $50 - angled stand and dock with micro USB connector and 3.5mm speaker line out
Nexus 7 travel power adaptor - $25 - 10W adaptor with 90cm cable, UK, EU, AU, US type plugs supplied
Nexus 7 travel cover - $20 - "tough yet snug-fitting case protects your device", six colours to choose from
Nexus 7 premium cover - $40 - leather with microfibre interior and glass fibre bumper, four colours to choose from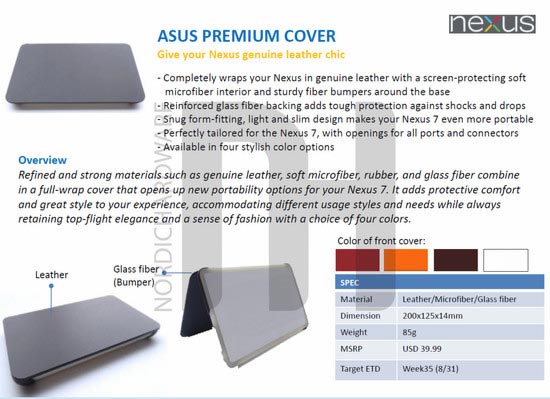 We can't say much about the quality of the accessories without having seen them in-the-flesh. However the docking station seems a little pricy and low on features. The items are due to be released in the next few weeks with the Power travel adaptor imminent (for reference we are now in week 31 of 2012).