The headline grabbing hardware at the Google I/O Conference later this week will be the Nexus 7 tablet. Gizmodo Australia got a look at a training document with lots of juicy details about the new tablet including pricing. Unfortunately there's not many nice pictures to look at but that will be remedied later this week. The Google I/O Conference runs from 27-29th June and takes place in San Francisco, California.
Here's a specification list we have put together from all the leaked information;
Google Nexus 7
7-inch IPS screen at 1280 x 800 pixels, 178 degree viewing angle
10 point multi-touch screen
1.3 GHz quad-core NVIDIA Tegra 3 CPU
GeForce 12-core GPU
1 GB RAM
1.2 megapixel front facing camera
Storage 8GB or 16GB options
Battery life approximately 9 hours
NFC chip
Android Jelly Bean operating system (Android 4.1)
Pricing will be $199 for the 8GB Nexus 7 and $249 for the 16GB Nexus 7
Made by ASUS for Google
Released in July
All the leaked specification is pretty close to rumoured specifications from preceding weeks so it is possible that the leaked training document is an elaborate fake. However Gizmodo say the source is reliable, with previous good intelligence contributions.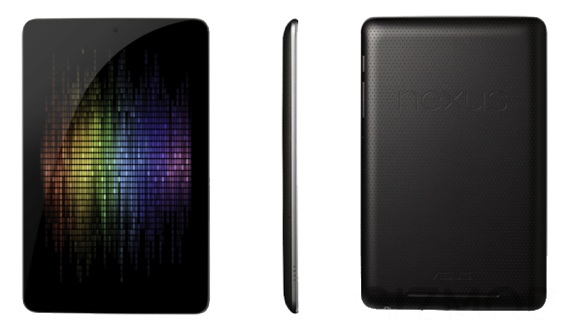 Nexus 7 picture courtesy of Gizmodo
The leaked specs and price look temptingly powerful and very competitive which makes a change from a lot of recent news about tablets and Ultrabooks we have been seeing. More affordable gadgets are always welcome, especially if the $199 Nexus 7 price is exchanged fairly into pounds to become £130…
Gizmodo's leaked document contains another revelation; that from Jelly Bean onwards Google will handle operating system updates. It's not sure if this is just for the Nexus 7 tablet, but Google Nexus devices should always get the latest OS updates first anyway because they are the reference designs. It would be a great strike against Android fragmentation problems if the Android OS could be updated centrally without operator approvals. All will be revealed for sure later this week.