Starry eyed
Three has confirmed that Samsung's Galaxy Mini and Galaxy Pro handsets will be available to buy from next month.
The Samsung handsets will join HTC's Desire S, Nokia's E7 plus Sony Ericsson's Xperia Play and Xperia Arc handsets which also go on sale via the network next month.
Sylvia Chind, head of branded devices at Three, said: "Samsung has had a great start to the year by bringing very strong smartphone contenders to market. We're very excited to be adding the Samsung Galaxy Pro and the Samsung Galaxy Mini to our growing portfolio."
Samsung's Galaxy Mini is an affordable Android option which runs Froyo+ 2.2.1 and boasts a 600MHz processor, 3MP camera and 3.14 inch touchscreen. HTC's Wildfire has demonstrated the demand for a cheaper smartphone offering and now Samsung hopes its Mini handset will grab a slice of the entry-level contract and PAYG action.
It will be available in 2 flavours: black and silver plus black and green.
Here is an image of the handset.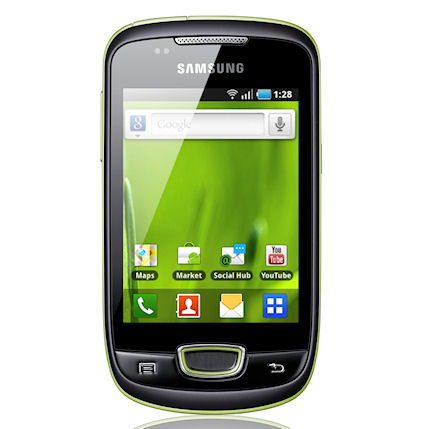 Meanwhile, Samsung's Galaxy Pro has a 2.8 inch touchscreen and QWERTY keyboard but also runs Android Froyo+. It has an 800MHz processor, 3MP camera and Samsung's social hub 'Premium' to help people manage their social lives from one central place, integrating IM, emails and social networks.
Chind added: "I personally love Samsung's hubs and being able to offer our customers the Social Hub Premium for free is an added bonus."
Here is an image of the handset.