Over the past decade, smartphone positioning systems have come a long way, with the use of GPS, assisted WiFi systems, better mapping and the presence of barometers and compasses; users can typically narrow down their location to within 6-10 meters over a variety of altitudes. Up and coming over in the EU is the Galileo GPS system, which in theory will be capable of offering both vertical and horizontal accuracies of less than one metre, something which Augmented Reality developers would no-doubt be thrilled about.
However, despite all these developments, a large part of our planet remains largely uncovered by positioning systems. No, we're not talking about the deep dark depths of the ocean, we're talking about the indoors, the walls that surround us which satellite signals cannot effectively penetrate.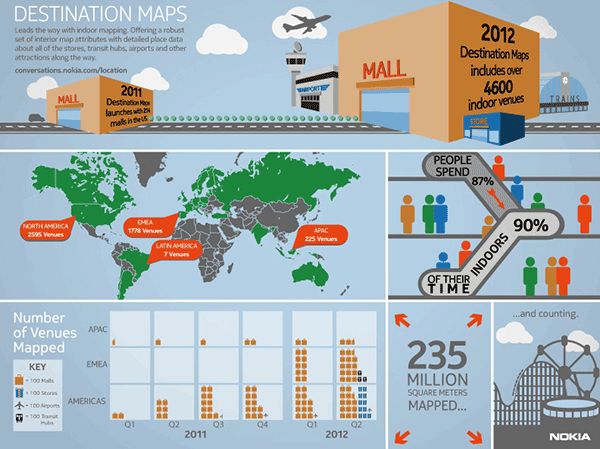 We've seen several attempts at mapping and providing positioning indoors over the years, ranging from lasers to visual recognition, all with their own unique techno.logical drawbacks. Recognising the gaping hole in service, 22 firms, including Nokia, Broadcom, Sony Mobile, Samsung and Qualcomm have teamed up to share studies and information under the flag of the 'In-Location' Alliance.
The alliance is focusing on the use of technology already present in modern mobiles, such as Bluetooth 4.0 and WiFi. The group hopes to produce some real results as early as 2013, with a view to applying any findings as soon as possible. It appears as though indoor mapping may not be so far away, after-all.