Geeks are moving their iPhones from the bedside table to the bed. A new app just launched at Edinburgh International Science Festival is designed to manipulate dreams. So that the app can read your night-time movements the iPhone must be placed on the mattress beside you.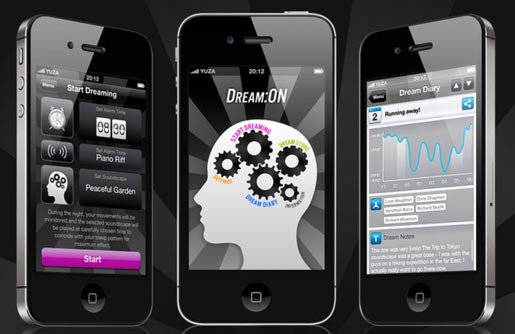 The app is an experiment launched by a Professor Richard Wiseman from the University of Hertfordshire. Prof. Wiseman is a psychologist and he is aiming for 10,000 people to help his study into the influence of soundscapes, mood music, on dreams. He said: ''Getting a good night's sleep and having pleasant dreams boosts people's productivity, and is essential for their psychological and physical well being. Despite this, we know very little about how to influence dreams. This experiment aims to change that.''
Surveys show that about 15 per cent of people suffer from unpleasant dreams, if this app can reduce that number then that's a very positive result.
The theory behind app is a lot more complicated than the functionality – it's an alarm and music playing app; the music triggered by the stillness of the sleeper a short period before the designated wake-up alarm. Users are encouraged to share their dreams via Facebook and Twitter integration – a social experiment. Professor Wiseman explains it all in the video below.
Sadly this geek can't participate in the experiment as;
I don't have an iPhone (though an Android version is in the pipeline).
I have a memory foam mattress (a water bed would also be a hindrance to the movement sensors I think).
My wife already complains I look at my phone more than her.
Also I'd be worried some malware might infect my phone and change the nice music to nightmare music or music containing subliminal bingo advertising.
There may be a little more commercial reasoning behind the app, rather than it being a totally benevolent venture. On the main app screen you can see the "Dream Store" where more soundscapes are available at $1.10 each. Looking at the video above, it seems like the number of soundscapes provided is quite low, probably to encourage purchases. Are the developers dreaming about £$£$s?