Sales of smartphones in the fourth quarter of 2011 have hit record levels with iPhone maker Apple leading the pack, but Samsung still ahead based on overall figures for the year.

According to data from market intelligence firm IDC, the smartphone market grew by 54.7 percent year-on-year with 157.8m units shipped in the last quarter. The iPhone 4S accounted for 37 million of those units with the California-based company achieving an overall 43 percent share of the global market across its range of handsets.

"

Attracted by a faster processor, improved camera and the Siri speech-driven agent, most iPhone buyers paid a premium for the iPhone 4S, making it the top-selling handset in Q4

," Ross Rubin, executive director, Connected Intelligence for The NPD Group, said in a statement.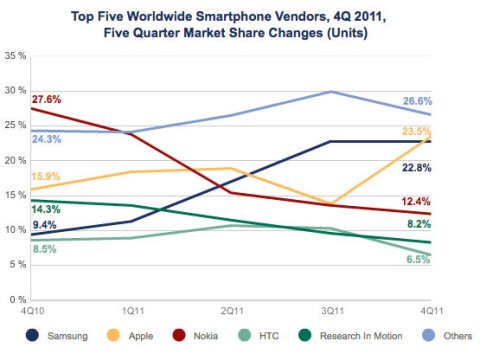 In the top five list of best-selling smartphones for the fourth quarter, Apple took the top three positions with its Apple iPhone 4S, Apple iPhone 4 and Apple iPhone 3GS. The Samsung GALAXY S II and the Samsung GALAXY S 4G were placed fourth and fifth respectively.

HTC did well in the fourth quarter too with record growth from 8.7 million units to 10.2 million year-on-year, while Nokia saw sales of its handsets slip from 28.1 million to 19.6 million. RIM, who is planning a new strategy in the smartphone market in 2012 with the release of the touchscreen-enabled BlackBerry London, saw sales rise from 8.7 million to 10.2 million.

Looking at the overall yearly figure, Samsung came out on top selling 94 million units out of a global total of 491 million, accounting for 19.1 percent of the total market. Apple was slightly behind with 93.2 million units shipped (19 percent,) with Nokia claiming 15.6 percent and RIM 10.4 percent of the global market.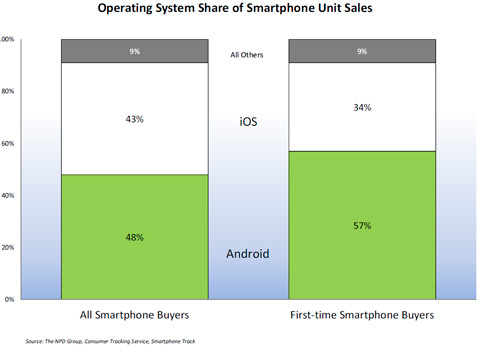 A graph showing how the operating systems are shared between smartphone owners reveals that Apple's iOS just about has the lead over Android, accounting for 48 percent of the overall market compared to Android's 43 percent for the quarter. However, 57 percent of new smartphone owners in the last quarter opted for an Android phone. That share is likely to tip in the favour of Android in 2012 as a slew of new tablets powered by Google's operating platform hit the market.