The topic of which OS crashes the most, iOS or Android, has long been debated, however, crash analytics firm, Crittercism, has now released crash figures, shedding some light on the reality of the situation.
Surprisingly, the figures show that an application is three times more likely to crash on a device running Apple's iOS than on a device running Google's Android, with specific note to Apple's latest iOS 5.0.1 release, which was present on devices for 28.64 per cent of all app crashes.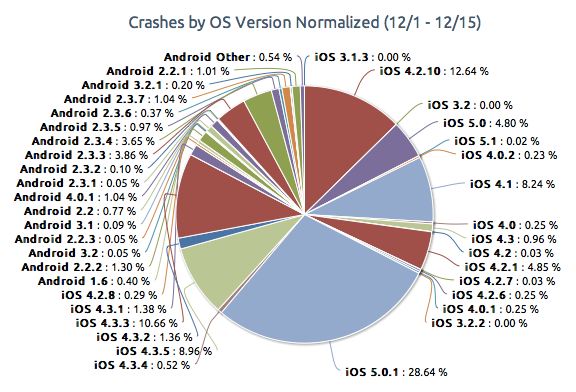 It's not unreasonable to say that as a new release, the chances of a crash on iOS 5.0.1 were more likely, however, that's still a pretty large piece of the pie and most of the larger slices are also from previous iOS releases.
Typically, this writer would take such figures with a grain of salt, however, as the owner of both brands of product, I can attest to a feeling of skewed perception of crash rates between the two operating systems. When an app crashes on Android, a moderately sized error message appears and the device beeps, offering the user an option to file a crash report, on the other hand, when an app crashes in iOS, it leaves one wondering if they accidentally hit the home button, as it fails both silently and smoothly. For these reasons, for once this writer has decided to place more faith personally in the figures than in collective user claims as far as the debate goes.
It has been suggested that the reason for increased crash rates on iOS, despite Android devices featuring a much wider range of hardware, could be partly attributed to Apple's hardened application approvals system, which makes the process of rolling-out crash fixes a much more lengthy one. Another suggestion is that unlike Java on Android, which runs in a virtual machine, Objective-C present on iOS has increased sensitivity to low-level interactions. That's all well and good but, what do our readers think?
More facts and figures available on forbes.com