Apple has launched a 'Reuse and Recycling' section of its official website, offering cash for old iPads, iPhones, desktops and notebooks.

The new service, provided by German company Dataserv, doesn't just offer cash for Apple products either, but allows you to sell third-party desktops and notebooks.

The website utilises a simple drop-down menu system allowing customers to select the category, manufacturer, series and model before answering a series of questions relating to the state of the device. Based on the answers you give, Apple issues an instant online quote.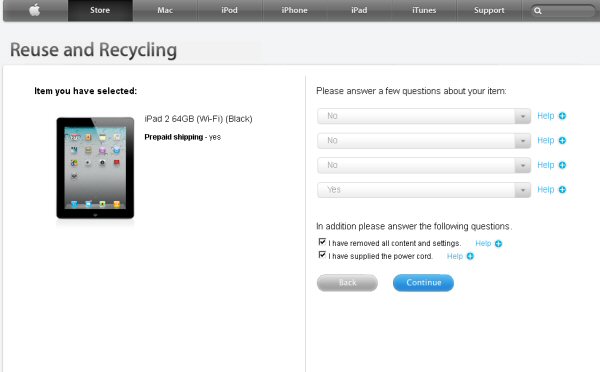 After selecting to receive a quote for our iPad 2 32GB Wi-Fi version, which incidentally is in perfect working order, we were offered £247. In comparison, that particular used model is selling for approximately £350 on eBay. Maybe Apple plans to sell them on auction sites at a profit?

If you decide to accept the online quote, you have five days to ship your product to Apple, who promises to pay directly into your bank account within 30 days, providing you haven't blatantly lied about the state of your device. Apple also accepts items that aren't working.

For more details, or to sell your unwanted devices, check out the 'Reuse and Recycle' website.