Activision has today launched Call of Duty: Black Ops Zombies on the Apple iPhone, iPad and iPod touch.

Priced at £4.99 and available as a 357MB download, Call of Duty: Black Ops Zombies is an iOS universal app, so operates the same across each device, meaning a zombie's brain will splatter just as vividly on your iPhone4's Retina Display as on your iPad 2.

As well as campaign mode, which involves slaughtering waves of zombies with a variety of modern-day weapons, 50 levels of the mini-game, Dead-Ops Arcade are also available. Activision has confirmed that updates will launch over the coming weeks adding new features, maps and "other special surprises."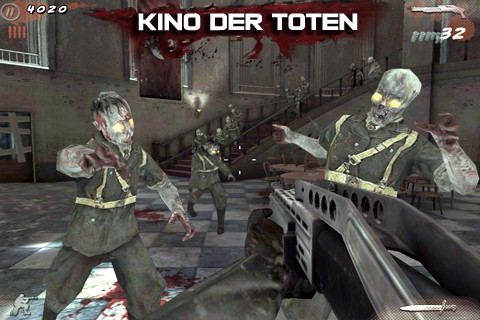 If players are feeling social, they can jump into four-player multiplayer mode and help each other to rack up those point-multipliers. Voice chat is also enabled for those who fancy screaming at each while blasting zombie limbs!

Judging by customer reviews on the iTunes Store, reaction has been fairly positive so far, with Call of Duty: Black Ops Zombies achieving 3.5 out of 5 stars from 788 reviews. Some of the more negative reviews complain that it needs a patch to improve stability.

Call of Duty: Black Ops Zombies is compatible with iPhone, iPod touch, and iPad. Requires iOS 3.0 or later.