Dell has launched the Wyse Cloud Connect ultra-compact portable cloud access device. This device was first seen about a year ago and at that time was known as the 'Project Ophelia' mini-PC dongle. This Android based HDMI stick is being offered for sale for $129.
Dell says that the Wyse Cloud Connect can plug into any MHL/HDMI screen and provide "an HD-quality window to the cloud". Users simply need to add a keyboard and pointing device and they're good to go for work, meetings or presentations when travelling. Other suggestions for the usage of this device include digital signage and education environments. As well as being a thin client for virtual desktops the device is a full Android device with Google Play, so after the work day you can use the Wyse Cloud Connect for browsing the internet, personal emails and playing games.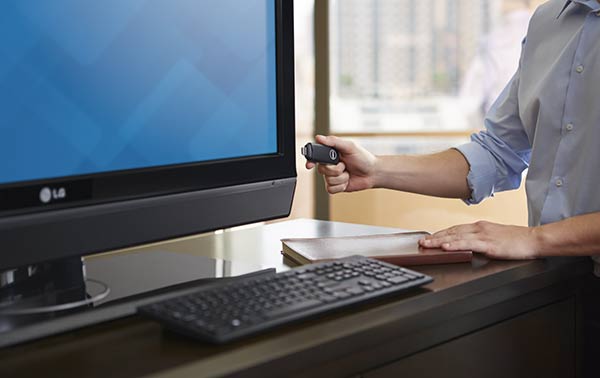 Dell's new thin client device can work seamlessly with Citrix, Microsoft and VMware environments, we are told. It offers easy remote connection to your Windows PC or Mac to access data, content or applications. "IT organizations want to be able to deliver a rich user experience through cost-effective and reliable devices without sacrificing security and manageability," said Bob O'Donnell, Founder and Chief Analyst at TECHnalysis Research. "At the same time, many end users want an easy, simple way to get access to their corporate applications and data wherever they happen to be. Cloud Connect is an innovative solution to address these customer needs."
The Wyse Cloud Connect has the following specifications:
OS: Android 4.1, Jelly Bean operating system to support triple play (voice, data and video) + Preloaded Dell Wyse PocketCloud software for remote access to physical or virtual desktops, apps and content
Display: Additional power and control offered by MHL, HDMI/MHL equipped video interface, 1080p Full-HD resolution support
Processor: Multi-core Cortex-A9 ARM System-on-Chip (SoC), Powerful 2D/3D graphics capability, offers HD video and audio processing capability
Memory: 8GB storage plus microSD card slot, 1GB RAM
Networking: 802.11 a/b/g/n dual band wireless, Bluetooth, Citrix Receiver, VMware Horizon View client, MSFT RDP
Ports: MHL/HDMI video interface (at launch), DisplayPort video interface, 1x USB mini for peripherals (keyboard/Mouse), 1x Micro USB host port / External power input
Dell can also provide a range of travel input accessories or you can use your own via Bluetooth. The Wyse Cloud Connect doesn't need external power if connected via an MHL interface but otherwise you can use the provided Micro USB port.