Sony has shown off the Xperia Z Ultra Android smartphone. The 'Ultra' bit seems to mainly refer to the size of this gadget which uses a 6.4-inch Full HD Triluminous display. However this smartphone also has a lot of other high specification components including a 2.2GHz Qualcomm Snapdragon 800 processor with LTE. Three UK has announced it will stock this phablet and we have an official Sony price indication from the Netherlands, where it is will be sold for €719 (£610) SIM free. Sony also officially revealed its SmartWatch 2.
Sony's marketing describes the new Xperia Z Ultra as follows; "The Xperia Z Ultra is the most exciting revolution in large-screen smartphone entertainment devices with both the slimmest and largest Full HD smartphone display in the world that is second to none."

The press release boasts that the Xperia Z Ultra has "The world's largest Full HD smartphone display", it is "The world's slimmest Full HD smartphone" and it is also "The only waterproof Full HD smartphone". Furthermore the Xperia Z Ultra can deliver the "Ultimate entertainment experience" and is powered by "the world's fastest smartphone processor". It's also nice that, as a phablet, Sony has decided to support a stylus with handwriting recognition, note making and sketching utilities.

Let's look at the key specifications:
6.4-inch Full HD TRILUMINOS Display for mobile powered by X-Reality for mobile engine for the ultimate viewing experience
Ultra slim, waterproof and dust resistant (IP55/IP58) durable design
Qualcomm Snapdragon 800 processor with 2.2 GHz quad-core CPUs and 4G LTE for fast performance
Smartphone measures 179.4 x 92.2 x 6.5 mm and weighs 212g
Write and sketch with any pencil and selected stylus or pen (with conductive tip)
8 megapixel camera with "Exmor RS for mobile" sensor and HDR for videos and photos. Can film in full-HD under water.
UMTS HSPA+ 900 (Band VIII), 2100 (Band I) MHz, 850 (Band V), 1900 (Band II), 1700 (Band IV), GSM GPRS/EDGE 850, 900, 1800, 1900 MHz
Full accessory ecosystem for premium entertainment and connectivity
Battery STAMINA Mode for outstanding battery life "improves the standby time of your smartphone by four times or more" (3000mAh)
16GB internal storage, microSD card support up to 64GB
Android Jelly Bean 4.2
Available in black, white or purple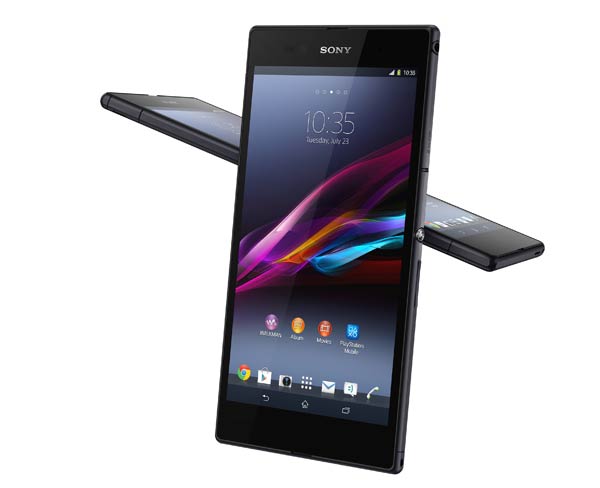 The Xperia Z Ultra will launch worldwide from Q3 2013. As mentioned in the introduction Three UK will stock the device, it's "coming soon". The Sony Netherlands official blog says it will be available SIM free in that country for €719 (about £610).
Sony SmartWatch 2
Sony also officially unveiled the SmartWatch 2, which was teased a couple of days ago. Sony wrote of the new SmartWatch "It's easy and convenient to access notifications from your wrist such as messages, calls, email, Facebook/Twitter, Calendar, or use it as a remote for your Walkman or other digital media player. This wireless accessory is ideal for pairing with large-screen devices, such as the newly announced Xperia™ Z Ultra, in situations which call for discrete usage." You can read more about this smartwatch on the official Sony product page here.