Smartphone screen sizes seem to be betting bigger and bigger, with sizes from most leading manufacturers encroaching upon 5-inches for flagship non-phablet devices. The original Samsung Galaxy Note had a screen measuring 5.3-inches which seemed mind bogglingly vast at the time. The Galaxy Note II pushed the screen size to 5.5-inches and also changed to a wider (actually taller), more video friendly, 16:9 aspect ratio. What were people expecting of the Galaxy Note III? A report in the Korea Times suggests the Samsung Galaxy Note III will have a 6.3-inch OLED display!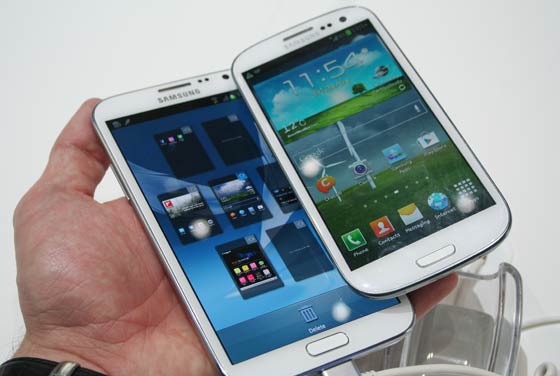 The current generation Samsung Galaxy Note II next to a Samsung Galaxy SIII
"Standard" flagship smartphone screen sizes
Samsung Galaxy SIII, 4.8-inch
HTC One X, 4.7-inch
Apple iPhone 5, 4-inch
Nokia Lumia 920, 4.5-inch
LG Optimus LTE II, 4.7-inch
Sony Xperia T, 4.6-inch
Phablet screen sizes
Samsung Galaxy Note, 5.3-inch
Samsung Galaxy Note II, 5.5-inch
Huawei Ascend Mate, 6.1-inch
Samsung Galaxy Note III, 6.3-inch
The juicy morsel about the Samsung Galaxy Note III's screen size was just a footnote in a story about Samsung reducing its investment in LCD technology and moving over to OLED and plastic based flexible displays. Here is the full mention of the Note, so small you could have easily missed it, near the end of the article "In a related note, the world's biggest technology company has been developing the Galaxy Note III with a 6.3-inch screen using an OLED display, according to officials from a local parts suppliers." This snippet didn't even get its own sub-heading...
To keep the Galaxy Note III pocketable and usable with one hand Samsung are going to have to do some pretty clever design. Looking at the Note II there remains some border at the sides of the smartphone which it could be possible to reduce, Motorola has managed an "edge to edge" display on the RAZR i smartphone. The release of the new Note, if it follows the pattern laid out so far, is still a very long way away, due in September 2013 at IFA. Recently however, inter-generation schedules have been shrinking.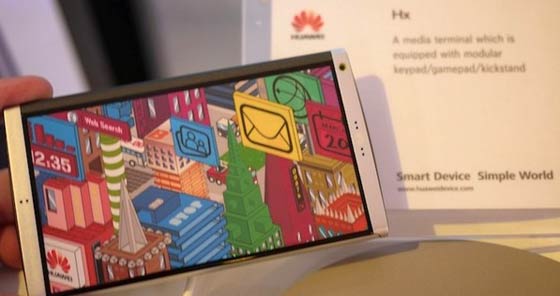 Huawei Ascend Mate, with 6.1-inch 1080p display
Huawei's phablet challenge
About a week ago we heard about the Huawei Ascend Mate, a 6.1-inch 1080p smartphone phablet competitor powered by a 1.8GHz quad-core processor alongside 2GB of installed RAM. Now it looks like Samsung are aiming to leapfrog that!