A senior South Korean defence official today admitted that the military have developed nine battlefield applications for Android based smartphones. The apps have been assessed to be a valuable asset to the armed forces; offering real-time communications, mapping, imaging and planning functions that may give the South Koreans an advantage under the fog of war.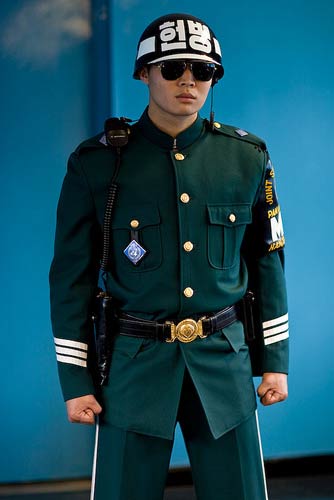 The nine military applications include the following:
BARS (Battlefield Augmented Reality System)
Troop and military unit tracking combined with GPS
Real-time video relay for updating enemy position data
Image view for identification of enemy/friendly units
Walkie-talkie communications functions
The senior defence official told The Korea Times that "We are paying keen attention to utilizing smartphones for military operations. Military units and other organizations that have jointly assessed the suitability of the newly-developed apps have concluded that the mobile software would be assets to the country's armed forces." By the end of the year the military will decide the extent of the apps use by troops.
The BARS app seems most interesting and useful with its maps and terrain information that could aid troop movement and navigation in a dark, foggy or smoky environment. The app displays the nearby terrain in 3D which means potential navigation pitfalls can be avoided by smartphone toting soldiers.
A military insider suggests the Samsung Galaxy S II as a viable standard issue smartphone, which he estimates will be serviceable for at least five years. However we suggest the South Korean military should shop around a bit more before signing on the dotted line for such a long contract featuring last year's model!
Several months ago HEXUS ran a story about the US Army using smartphones in the battlefield. Since then it has transpired they have also chosen Android handsets "because Apple was unwilling to provide the government with access to the platform's source code". The US Army smartphone apps market (requires login) includes utilities such as a sniper rifle bullet trajectory calculator and foreign language phrasebooks.