Today Samsung UK has instigated a little promotional scheme to soothe the transition pains in migrating from an Apple iPhone to a Samsung Galaxy phone. All iOS defectors will be able to get a free copy of Easy Phone Sync by Media Mushroom.
The Easy Phone Sync app "is an easy way to transfer the following to your Samsung Galaxy mobile device". The app and PC/Mac computer companion app make it very easy to migrate your iTunes data to your new smartphone.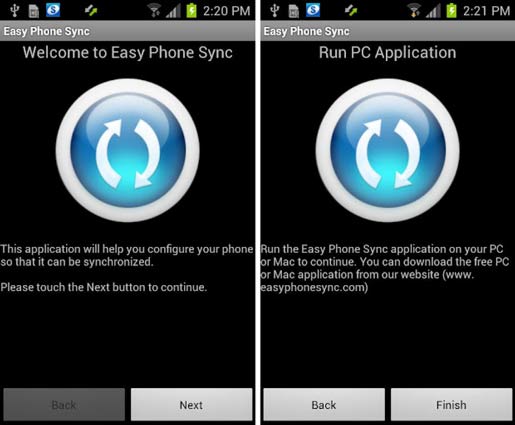 You can migrate:
contacts, messages, photos and videos* from an iPhone or iPad using the iTunes backup on your computer, and
music*, podcasts and playlists from iTunes
* DRM-free content only folks
Simon Stanford, VP of Samsung Telecommunications and Networks UK, said of the free migration software offer; "We know that traditionally iPhone users have been reluctant to switch to an Android device because they couldn't use iTunes to manage their content. Easy Phone Sync means people can now enjoy their iTunes content on a Samsung Galaxy phone. What's more is that it's really easy for them to do, and literally takes five minutes to set up."
Indeed users are so far universally happy with the software, based upon Google Play comments and star ratings. Keith said today that the software is "Simply amazing. This app transferred all of my iPhone content, my text messages, pictures, music and video to my new Samsung Galaxy Note. I've been waiting a long time for someone to create this. Well done."
This migratory promotion seems like a smart move from Samsung UK at relatively little cost, especially since an identical non-customised for Samsung Galaxy version of the app seems to be free on Google Play.