To be extinguished as fast as it had spread, Google SVP and Android project manager, Andy Rubin, has made a rare twit to deny rumours that he would be leaving Google to head up new firm, CloudCar and, as always, Andy took the time to let us know the latest Android Activation figures, citing the impressive numbers as his reason to stay.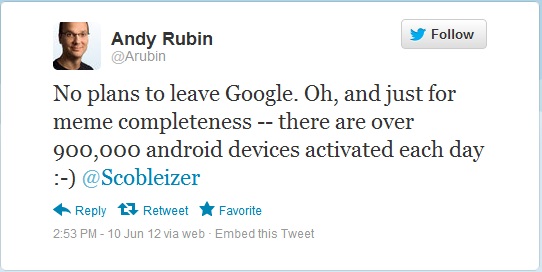 It's over 900,000 guys! At this rate there will be over one million Android activations, every single day, by August this year. This is following on from a similar twit/Google+ post from Andy back in December, where he stated that Android had reached a daily activation figure of 700,000. This means that in six months, Android has seen a growth of 28 per cent, quite the impressive figure.
In further comments, Andy also took the opportunity to remind us that the Google I/O developer conference is coming soon, starting June 27th, where it's believed that the firm may unveil Android 5.0 'Jelly Bean', possibly along with an array of Google-branded smartphones and tablets.
T minus 16 days and counting!