As our readers may know, Google is currently in a legal fight against Oracle over the licensing rights to the Java language within Android, with Oracle seeking £630 million in compensation, along with regular license fees, which would no doubt boost the end cost of Android toting handsets. Currently the jury is out and a decision is expected over the coming weeks.
Meanwhile, however, in quite the impressive feat, Mono developer, Xamarin, has managed to port the vast majority of the Android source code away from Java and over to C#. As a quick history lesson, C# is, like Java, a managed, virtual machine-based, programming language, originally developed by Microsoft. C# and its .NET virtual machine, unlike Java, has since been fully ISO standardised and the framework is covered by a legally binding community promise to not charge users for its use or implementation, making C# a truely free language.
Xamarin's belief was that the Dalvik VM, Google's implementation of Java on Android, was a young virtual machine, lacking in performance tuning and unable to receive optimizations from Oracle's HotSpot. The firm worked to mature code translation tool, Sharpen and, used this to speed along the process. Here are some early results: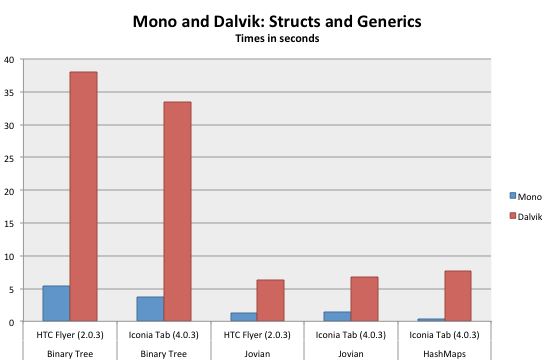 Do this writer's eyes deceive him or does C# Mono severely trounce Java Dalvik? The port isn't yet complete, however, with direct graphics access and some more source code translations yet to come. However, as a C# fan, preferring the language's similarity to industry standard C++, this writer hopes that Xamarin's development continues smoothly and, that perhaps Google, will take note of the firm's progress.
For those who would like to try out the new C# OS, here's the link.