Here is an update on our story from last week, about the Intel Atom 'Medfield' based smartphone, the Lava Xolo X900. Since that time the phone has been made available in India and some lucky tech websites have got their hands on them to review and benchmark the phone. Also yesterday Intel CEO Paul Otellini appeared on CNBC demoing and showing off the handset as well as talking about other Intel news concerning Ivy Bridge and Ultrabooks.
Paul Otellini showing off the new Lava Xolo. "Power, cost, affordability." (+ 30s advert!)
The first detailed review of the Lava Xolo phone is over at Anandtech. The benchmarks showed the Xolo X900 keeping up with ARM based phones like the Samsung Galaxy S2 and HTC One S. In most of the benchmarks the Intel phone is sandwiched between these two in raw performance figures. In the SunSpider Javascript Benchmark the Xolo was actually the best phone, even though it currently runs Android 2.3. (Android ICS has more optimised in-browser Javascript).
In our preview article we thought that power consumption may be a chink in the armour of the Intel based Xolo smartphone. Spec for the talk time and standby were low at "Up to 8hrs talk time, 14hrs standby (3G figures)." However Anandtech find the battery performance to be reasonable. In his review conclusion Brian Klug of Anandtech wrote: "The x86 power myth is finally busted. While the X900 doesn't lead in battery life, it's competitive with the Galaxy S 2 and Galaxy Nexus. In terms of power efficiency, the phone is distinctly middle of the road - competitive with many of the OMAP 4 based devices on the market today. If you've been expecting the first x86 smartphone to end up at the bottom of every battery life chart, you'll be sorely disappointed."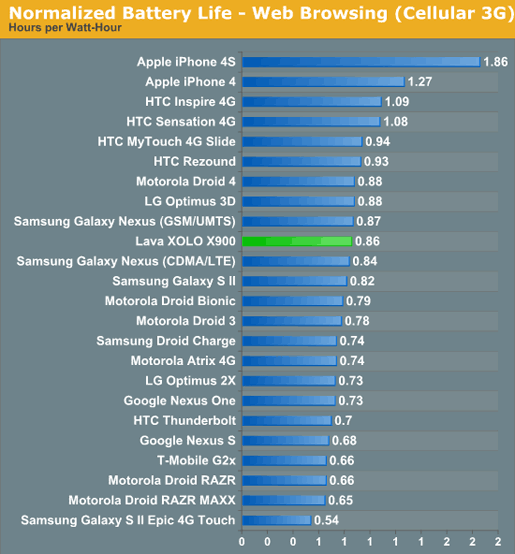 Lava Xolo battery performance chart, from Anandtech.
So the Lava Xolo isn't the leader of the pack, nor is it the runt of the litter. It's a good first step, the CPU is a great performer, but video performance and battery life are middle tier. The price of the Xolo X900 in India is 22,000 rupees ($420 / £260) which is pretty good for a launch price, but what prices will we see in the west? What can partners who wander off the reference design make of the Intel Medfield chipset? We will be able to see this summer when Lenovo and Motorola join the Intel smartphone party.