Whilst the device is yet to hit the stores, an AT&T employee has, allegedly, ran the HTC One X through its paces, benchmarking the Snapdragon S4 processor to be found in the US 4G variations of the One X. For those that read our earlier report, the non-4G One X outside of the US will instead feature an NVIDIA Tegra 3 quad-core processor.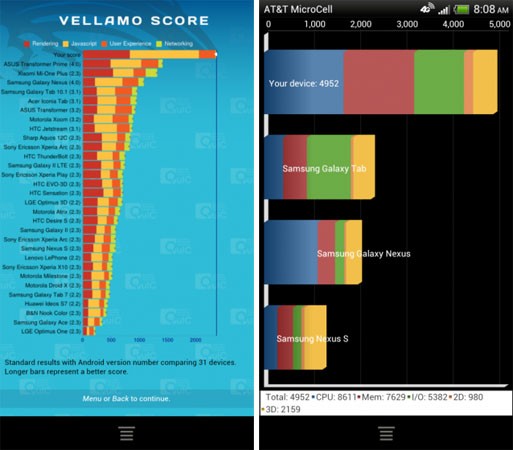 It's evident from the Vellamo benchmark that the Adreno 225 found in the S4 is churning out around 30 per cent greater rendering performance than the Tegra 3 found in the ASUS Transformer Prime; we dread to think what the new Adreno 320 may be capable of in the upcoming Snapdragon S4 Pro line-up. Javascript performance appears to be more than double that of the Tegra 3, which, if you do the math on overall DMIP performance, shouldn't be so and the large gap can't be completely explained by the Sanpdragon's optimised architecture, suggesting that Javascript on Android is still best optimised for dual-core scenarios.
As expected, the HTC One X trounces the Samsung GALAXY Tab and Nexus smartphone in Quadrant benchmarking.
It's a crying shame that we're unlikely to see many S4 devices popping up outside of the US, though it's looking as though the ASUS Padfone will ship with one in the UK. We'll keep our fingers crossed that Samsung's Exynos 5 finds its way into devices in the near future, that it delivers the performance it has promised and that the Tegra 4, perhaps equipped with a Kepler GPU, also isn't too far away.