At the new Surface 2 and Surface Pro 2 launch Microsoft showed the intriguing Surface Music Kit. The kit is in the form of a custom touch cover which instead of a QWERTY keyboard is decked out with transport controls, sliders and trigger pads – similar to many dedicated groovebox type electronic musical instruments.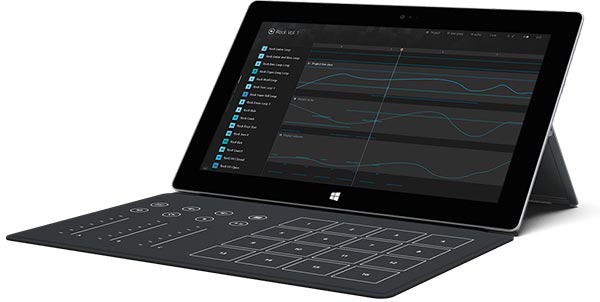 Yesterday Microsoft uploaded a series of nine videos to the Surface YouTube channel demonstrating many aspects of the use and usefulness of the Surface Music Kit. I've embedded some below showing the manipulating of sounds and tracks, creation of new patterns and rhythms and also mixing a completed song and adding effects.
Download songs and templates
Record and import new patterns
How to add effects to your remix using sliders on Surface
Microsoft uploaded a total of nine videos showing different operational aspects of the Surface Music Kit. You can see them all on the Surface YouTube channel here. Also for an overall look at the kit in a single video Linkin Park's Joe Hahn explains why he likes using the Surface Music Kit here.
The Surface Music Kit was supposed to arrive at the same time as the availability of the new Surface tablets but this cool accessory is yet to emerge into retail or be priced. Perhaps it will erm, surface, when the Surface Remix Project competition closes on 28th October, the winner of that competition (still open to entries) will get a free Surface 2 and Surface Music Kit.