The cookoo is billed as "first real watch that connects with your smartphone, keeps you posted, and does not need to be recharged". The cookoo smartwatch does look a lot more like a traditional watch than other smart connected watches we have seen and the battery life of approximately a year is commendable considering it uses Bluetooth (v4.0) to constantly check your smartphone. Also the cookoo uses an easy to replace and to source CR2032 battery. The look isn't very elegant, I'd call it chunky.
Just over a month ago we talked about the new Pebble smartwatch for Android and iOS. It was launched on Kickstarter and became extremely popular, the funding was so successful that they exceeded their $100,000 funding target and actually raised $10.2 million! Currently the cookoo is half way to its $150,000 target with 43 days to go. It certainly looks like it's going to make it to that target, by July 7th. The cookoo's functionality is considerably less than the Pebble but it seems to cover all the essentials with great battery life and more traditional looks. The $50 pledge edition of watches has sold out (only 250 were made available) but you can order a black one for $80 and there are other colours and options down the right hand side of the Kickstarter page.
The cookoo team adhered to the following criteria when designing their watch;
be readable at a glance
not require recharging
be durable and wearable anywhere, anytime
For the cookoo™ watch, this meant not compromising water resistance (3 ATM minimum), durability (crystal vs. plastic watch face), and battery life (up to 1 year for the connected display and 3 years for the analogue movement).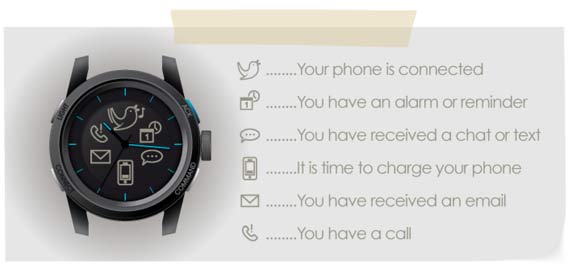 The partner to the watch, the "Connected App", can send alerts to your watch for incoming/missed calls, SMS, email, alarms, smartphone battery status and more. Alerts have an easily recognisable icon on the watch face. In addition there is a programmable command button with which to control your smartphone remotely. At the moment the cookoo team have configured software to check in with Facebook or Foursquare, tag a location, take a picture. More functions and interactions with your favourite smartphone apps are coming up in future updates.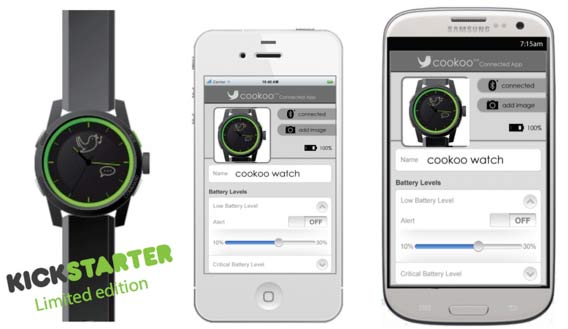 Personally I like the finding lost phone function, where you can press a button on the watch and an alert sounds on the phone. That could often save me from the embarrassing where me keys, where me phone catchy song moment.