Everything at stake
If you judge Nokia by any key economic metrics, such as profit or share price, the past 12 months have been a nightmare. Since the previous CEO was unceremoniously replaced just before last year's Nokia World, by Microsoft exec Stephen Elop, Nokia's financial trajectory has been relentlessly downward.
On the eve of Nokia World 2011, the Finnish mobile giant seems keen to set the record straight on how it sees itself, and its future prospects. So I went into London at the end of last week to meet Conor Pierce, Nokia's general manager for UK and Ireland, who has only been in this role since April, having headed-up Nokia's operations in Turkey previously.
He started by asking me how I perceive Nokia, past and present. I replied by observing that its years of dominance of the mobile handset market seemed to have made it arrogant, complacent, and bureaucratic, which is why it took so long to fully appreciate the fundamental shift in the tech industry catalysed by the launch of the Apple iPhone. Well, he did ask!
However I also observed that momentum is potentially swinging in Nokia's direction. Nokia's future rests on its ability to reclaim at least part of its haemorrhaging smartphone market share, and it has gone all-in on Microsoft's WP7. While Apple and Android have undoubtedly had great years, it's by no means certain they'll be able to maintain that momentum, especially while they keep tearing legal chunks out of each other.
In contrast you could argue that the only way is up for NokiaSoft. The Mango update for WP7 is generally thought to be a good thing, while OEMs, operators and consumers alike are keen for an alternative major mobile platform, especially with BlackBerry perceived to be in decline. There remains a lot of latent affection and brand loyalty for Nokia, all it needs to do it launch a handset that is at least on a par with the current market leaders and it could well be straight back in the game.
Pierce didn't disagree with anything I said, and was under no illusions about what was at stake. "The next 12 months are pivotal," he said. "We've made the big decisions and now it's up to us to execute."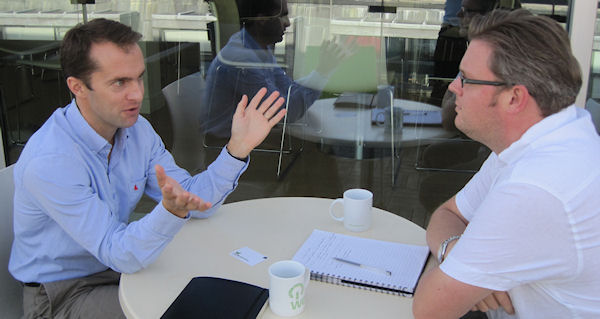 No argument there. The platform seems to be up to scratch, and it's both sufficiently different from iOS and Android, yet still quite obscure in the public consciousness, as to ensure that it will feel very fresh and innovative when the first Nokia handset launches before the end of this year.
As to the handset itself, to my immense surprise Pierce wasn't willing to give me an exclusive preview, but he did seem pretty excited about it. "It's not just a handset launch - it's a new category," he said. "What we have as our first device is awe-inspiring. As a piece of hardware it's just beautiful."
To be honest, it probably needs to be. I wouldn't go so far as to predict Nokia's demise if this first device disappoints, but so much rests on how it's received by reviewers. As a sign of Nokia's confidence on that front Pierce revealed that he expects to have a lot of review units available as soon as it launches and promised me one, which is nice. "We're doing an unprecedented seeding campaign," he said.
The other thing Pierce is really focusing on to try to ensure decent sales of the WP7 phone is the retail channel. He recently switched his distributors to go for a couple with strong pedigrees in the UK tech retail and B2B channels: Ingram Micro and Micro-P. He is also being proactive with his field marketing resources; getting as much mindshare and presence as possible in the shops themselves.
On the whole Pierce was keen to convey the message that Nokia has got its house in order. Arrogance and complacency are dirty words and it's all about empathy, trust and confidence. He knows Nokia has damaged its brand by bungling the transition into the mobile device era, but is determined to repair that damage. Pierce's own target is for Nokia to reclaim the number one smartphone spot in his territory.
I gave Pierce one last chance to share some juicy morsels about Nokia's upcoming devices by asking how Nokia was going to differentiate itself from the other WP7 OEMs but he was not to be drawn. "You'll see in the quality of our first device," he said. "And next year looks even more spectacular." 2012 looks set to be the most exciting year for mobile devices yet.