New balls please...
The tennis videogame arena has long been dominated by the Top Spin and the Virtua Tennis franchises with both equally deserving of the critical acclaim lauded on them for their differing approaches toward entertaining fans of the sport.

While Virtua Tennis's arcade tradition and quick learning curve appeals to gamers seeking an accessible and fast-paced tennis title, Top Spin's in-depth control system is undoubtedly aimed at those willing to go that extra mile to become masters of the sport.

Whether you're slugging it out with long baseline rallies on the slow red clay courts of the French Open or fizzing the ball around on the grass of Wimbledon, you can't deny that it's the Top Spin franchise that gets closer to simulating a real game of tennis than its rival. The developer hasn't held back in this latest iteration either and has taken on-court realism in Top Spin to a whole new level.

On the surface not much as changed from the last iteration of 2K's sport's series, with familiar menu screens, many of the same customisation options, game modes and online options available. However, as soon as you step onto court for the first time, the changes hit you smack bang in the face and everything that you thought you knew about how to play Top Spin and all those moves that you mastered in Top Spin 2 won't matter one jot. You're going to have to learn to master the game all over again.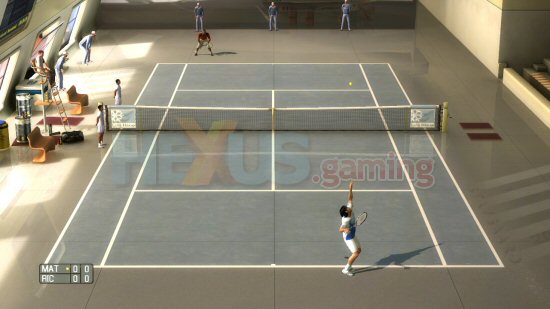 Click for larger image



On court, the foundations laid down by previous games can still be seen, with standard shots, slice shots, lobs and topspins, all being executed by the face buttons, with the direction of the shot controlled via the left thumb-stick. This time though, the margin for error is far less than it was before, ultimately making this simulation of the sport even more in-line with the real game than previous iterations. Top Spin 3 is not just incredibly tough to master; it even takes some skill just to return a serve.