Introduction
This review was written by HEXUS.community member Ferral, Iain Metcalf, and reflects his opinions on TERA, a game that we gave away in one our recent competitions. His editorial was completed with the 17.32.02 patch.
Introduction
Over the past few years there have been a numerous massive multiplayer online (MMO) games, launching every few months, all trying to take the crown from World of Warcraft (WoW), considered the king of MMOs, but there has yet to be one title that has seriously taken subscription numbers away from Blizzard's behemoth.
So who has recently faced up to WoW, slashing and hacking to dethrone the MMO king? DC Universe Online, Lord of the Rings, Star Trek, and, more recently, Star Wars: The Old Republic, to name a small handful.  Many of these titles have had to go down the Free 2 Play route (F2P) to survive with dwindling subscriber numbers. Star Wars: The Old Republic, for example, has been suffering subscription losses, with many players returning to WoW after their post-purchase 30 days are up.
Setting the scene against a backdrop of WoW dominance, today I am looking at TERA, a new action-based massive multiplayer online role-playing game (MMORPG),  promising action-orientated combat, a large world and an endgame that should keep players interested for years to come.
The Basics
Starting out within TERA you are given a large selection of classes, character customisation and the selection from one of the seven races from this new enchanting world, each coming with two specific race buffs. Customisation is on par with the admittedly-superb Elder Scrolls series. You are offered a few default faces to start with, but can customise every aspect of your character's facial features to suit your taste, down to eye shape; skin colour; nose bridge; eye width, hair/head style; actually way too many others to list here. Underscoring this point, you will be hard-pushed to find another character that looks the same, or even similar, once you start out upon your journey.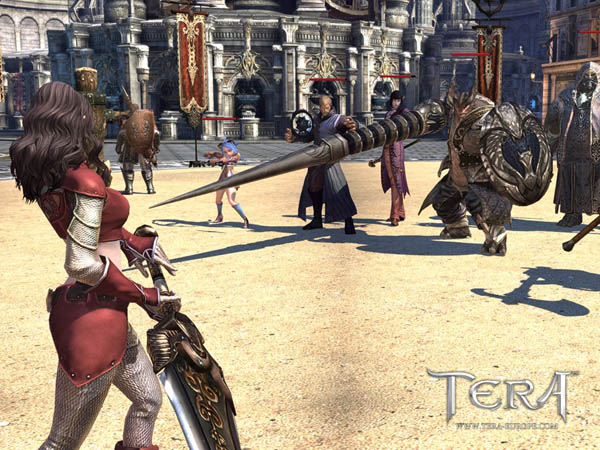 Choice extends to the class you want to play, too. For example, the warrior classes have Lancer (using a medieval-style lance), Slayer (two-handed weapon specialist) and your standard Warrior for dual-wielding and sword/board combinations. There is something for everyone regardless of the preferred play style: Magician, healer, ranger and the aforementioned warrior. It's not ground-breaking, granted, but then some things are just plain right. To get me started I decided to go with an Aman, a demonic, bestial-looking race, and my chosen class the two-handed specialist Slayer. Time to go adventuring!
The Story Unfolds
The story of TERA tells a tale of two sleeping Gods, Titans of TERA, and it was the Titan's dream's that created the world of Arun, a pair of islands, similar to WoW.  A new island shows on the map which is named the Isle of Dawn. The inhabitants decide to investigate and are attacked by demons. A large-scale assault heads for the island only to have the ships destroyed by a storm and the survivors are left shipwrecked on a beach at night. To overcome the evil on this land, the seven races band together to push back the darkness and return light to their world.
The story alone sets this game apart from other titles as it isn't restricted to two warring factions of good versus evil. Everyone that plays is a part of the good side, fighting to restore their world. This makes player vs. player and end-game more interesting than just the usual continuous dungeon-runs and large-scale raids. But more on the end game content later, though.
After the shipwreck, you play one of the survivors and it is now time to start out on your quest to save the world. You actually play through this starting area with your character at level 20, with plenty of your skills to use, and this initial area gets you used to the way the game plays. This beach landing serves as a testing area for your character and takes about 20 minutes to play through, so if you don't like the class you have chosen you can just create another race/class and try out something different at a higher level: I liked this! It's an ingenious way to help you get the most from your personal play-style. After working through this area with a few large-scale fights with some huge demons, you move onto the bright, colourful encampment in the Northern part of the island, and you're back to level one for the adventure in earnest.