Giant spiders and worms that burrow through your brain
The narrative merely provides a back-drop to the platform play and puzzles, and the lack of character building means you fail to connect with the game's main character or care for his well-being despite being dumped in the most horrid of places in search of someone who is obviosuly close to his heart. Nonetheless, the lack of a progressing narrative, and the fairly disappointing conclusion to his sister's search, doesn't distract too much from what is at its core a puzzle game; it's not supposed to be a deep and meaningful adventure.

The creepy forest environment that makes up the first part of the game has a Blair Witch Project feel and manages to inject you with the same sense of paranoia at every turn as you shuffle past shadowy bodies that hang from tree branches. Bears, spiders and worms that bury themselves into your brain try to kill you as you run, jump, push and pull your way passed some head-scratching puzzles.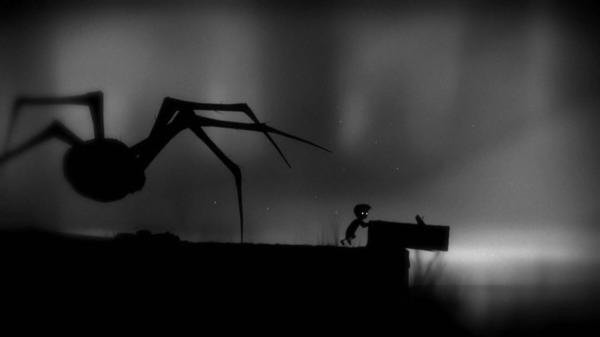 The forest location eventually gives way to an urban setting and machinery-based and gravity puzzles that give you a lot think about. As the challenge intensifies so does the build up of tension as you use a trial and error technique to beat many of the puzzles. Playdead says that this particular play style was deliberate – they want you to die and feel like you may die at any second. Though it can be frustrating, the developer does achieve its aim of keeping you on edge.

Controls are extremely basic, with the boy able to simply push and pull objects or jump, but puzzles are cleverly conceived and challenging, making the most out of the simple moves. At time of publishing, it's strange to see that Limbo has not yet been priced on Steam, despite it launching shortly on August 2nd. The Xbox 360 version cost £9.99, so we'd expect it to fall in line at a similar price. As long as the price does stay around the £10 mark, or a little bit lower, Limbo is definitely worthy of purchase. While its art-style alone is worthy of a look, the gameplay is fairly compelling too, despite it all ending a little too abruptly.



The Good

Striking black and white art-style
Great variety of environment and physics-based puzzles



The Bad

Disappointing conclusion to a dark tale that promised so much

HEXUS.rating

Limbo
HEXUS.where2buy
Limbo is available to purchase from STEAM .
HEXUS.right2reply
At HEXUS, we invite the companies whose products we test to comment on our articles. If any company representatives for the products reviewed choose to respond, we'll publish their commentary here verbatim.