Pick up and play football sim
Ever since Sport's Interactive, the creators of the Championship Manager series, deserted publisher's Eidos and signed a deal with Sega, both companies have been going head to head each year in a battle to create the most addictive footy sim.

Just in case you didn't know, and to further confuse matters, the old Championship Manager series was renamed Football Manager and a new Championship Manager series was built from the ground up and is now developed by Beautiful Game Studios, who have slowly but surely been raising their game each year and working their asses off in a bid to compete against Sega's critically acclaimed series.

One thing that both of these games have in common, aside from being huge data processing spreadsheets, is that they both ought to come with a warning, perhaps big bold letters across the packaging with the words: 'Beware, this game could ruin your social life' would do the trick, because to the avid football fan, and despite the rudimentary graphics and the repetitive text commentary, there's just something so addictive about methodically flicking through spreadsheets full of data, allocating training schedules and scouring the transfer market for that elusive bargain basement striker. We've been doing it for years, yet we still keep coming back for more.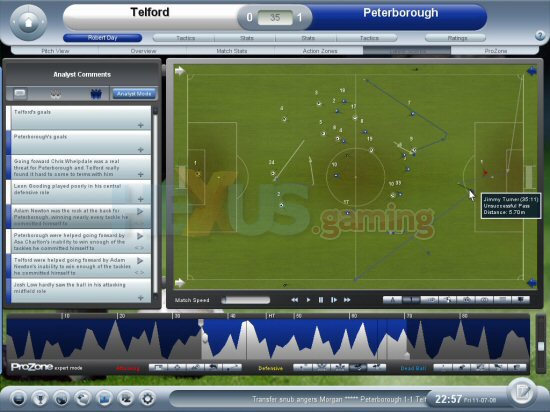 Click for larger image



Football Manager is certainly the deeper of the two games in terms of realism, allowing you to micro-manage practically every aspect of your football club and therefore will still be the choice for those seeking the complete management experience, but Eidos do have the more accessible game with Championship Manager 2008 and this year it boasts a whole host of improvements. In fact, Eidos have netted themselves quite a scoop for the 2008 version by gaining the exclusive rights to feature the Pro-Zone analysis tool in all Champ Manager games from this point forth.

Read on...