A big headset with a big sound
Mad Catz latest addition to its range of quality gaming headsets, the TRITTON AX Pro, is a beast of a headset that stands majestically head and shoulders above its competitors like a member of royalty lording over his subjects. That's largely because the AX Pro comes packaged in a big box - one of the largest we've seen for a gaming peripheral. It's not just its size and stature that impresses though, as the AX Pro has a long list of features and specs which elevates it to the top of Mad Catz current range of gaming headsets with some style.

What makes these cans truly stand out from the competition is that they come packed out with Dolby Digital True 5.1 Surround Sound. Four speakers in each cup represent the front, left, right and back speakers of a surround sound set-up – that's eight speakers in total designed specifically to deliver sound to complement your HD video gaming experience. Aesthetically, the impact of the AX Pro is immediate – this is a very stylish-looking headset - but it's really the promise of true 5.1 that gets the juices flowing. Has the AX Pro really got what it takes to deliver luxurious gaming comfort, and can it possibly deliver the aurally perfect videogame experience that its specifications suggest? Let's take a look…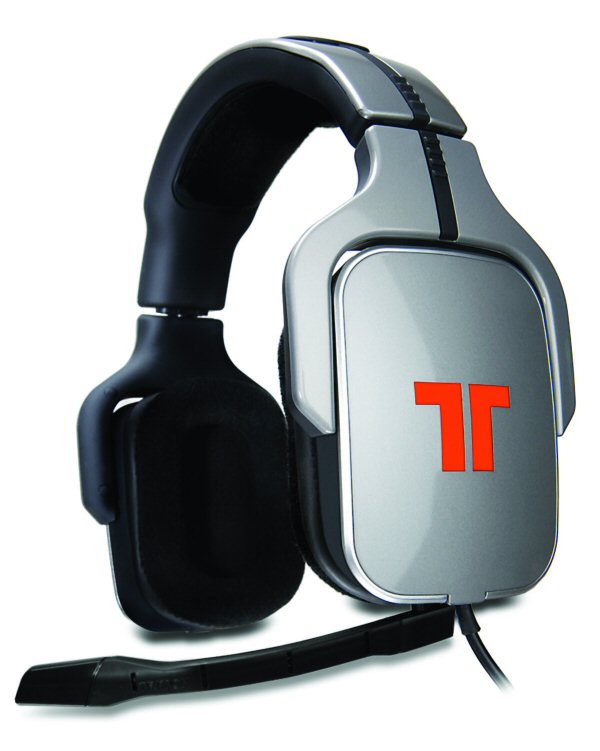 In the box
While some headsets come tightly wrapped up in clamshell packaging and require a sharp knife and the strength of an angry elephant to open, Mad Catz has managed to pack a lot of stuff neatly into the box without the need to secure it all so drastically. Instead of having to rip boxes and packaging to get to your headset and its components inside, you can slide everything out quite effortlessly. It's reassuring that this head-set, especially considering its high price, is packaged extremely well and that you could quite easily slide the contents back in with little effort if you did want to transport it.

The TRITTON AX Pro isn't cheap, with a recommended retail price of £149.99 (£199 on PLAY.com .), but as soon as you open up some of the boxes inside and discover some of the pleasant surprises, you begin to see where some of the value may lie.

The TRITTON AX Pro comes complete with:
AX Pro 5.1 headset
Extra earpad and headrail pad set with cup removal tool
In-line volume control with breakaway braided cable
Removable, flexible microphone
Decoder box
Power Adapter
Xbox Live Communication Cable
Optical Cable
USB cable
Regional plugs to allow you to use it across the globe

We particularly like the addition of the extra earpad, which is covered in a leatherette material. This is different to the soft padding material on the existing cups, so you've got choice depending on your preference. In fact, many of the extras you get seem to be largely about Mad Catz wanting to give you choice and options for comfort and sound, while also ensuring you have everything you need to get set-up on any device – providing it has a digital optical or 3.5mm analog 5.1 output. For the purpose of the review, we've tested out the headset extensively on PlayStation 3, but have also tested it out on Xbox 360 and iPod Touch with equally impressive results.