Split personality
Papa Docomodake is a mushroom, albeit one that sports legs, arms, eyes and a phlegmatic smile. He can jump, duck, roll, dig, climb and push objects, everything you'd expect from a platforming hero, as he gathers up coins and hunts for treasure chests across areas that surround the village, including the forest and the plains. However, Papa Docomodake's most interesting trait in his arsenal of abilities is that he can split himself up into mini versions of himself ('minis) and then reassemble his body in the space of a few seconds. This is where the game differs from traditional platformers

Each stage offers a different challenge, testing your logic to the max the further you progress. You need to think carefully, plan ahead, and study each location before you make a move. The clever design of the levels means that you need to use Papa Docomodake's body splitting ability frequently in order to kill enemies and navigate to the end of each stage.

Using the stylus you can drag the mini mushrooms from the larger Papa mushroom, which then shrinks as a result, and then use them in a variety of entertaining ways in order to solve puzzles.

You can roll them into balls, amusingly called roly-polys, and toss them around to activate switches and kill enemies. You can pile them on top of each other so you can use them as a ladder to get to a high platform or line-them up in a row to use them as stepping stones to reach a new area.

Although the puzzles start of quite simple, by the time you reached stage two you really have to think hard before deciding what you need to do in order to reach the other side of the screen, or if you hope to find the many treasure chests hidden along the way.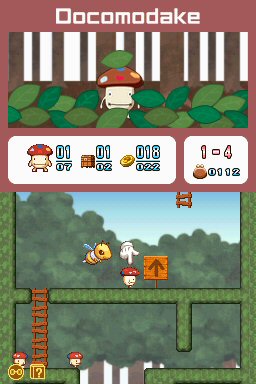 Continued overleaf...