Last night Sony announced its next generation games console, now known officially as the PlayStation 4. We never got to see the design of the console but we have got the specifications (*Specifications are subject to change without notice). Also the controller we saw a few days ago in a leaked photo is indeed the new DualShock 4 controller.
Hardware
Sony says that the new PS4 will enable "the greatest game developers in the world to unlock their creativity and push the boundaries of play through a system that is tuned specifically to their needs". The system is based upon an x86-64 AMD "Jaguar" with 8 cores at its disposal. This is augmented in the graphics department by a "next-generation" Radeon GPU capable of 1.84 TFLOPS. The processor will be supported by 8GB of GDDR5 RAM.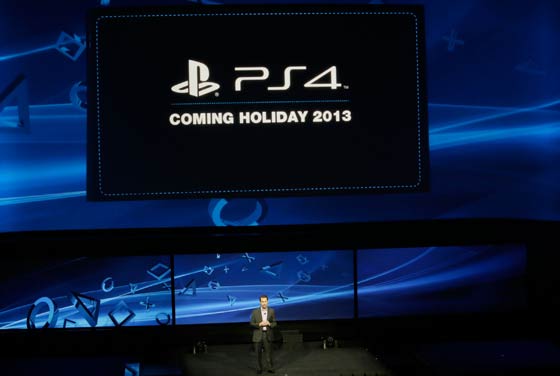 The PS4 will connect with other PlayStations and mobile platforms through the PlayStation Network. It has built-in networking connectivity facilities including gigabit Ethernet, 802.11 wireless and Bluetooth.
For storage the PS4 will have a built-in HDD of undisclosed specification, perhaps a range of choices will be available. For loading software and entertainment disks you will have a 6x BD-ROM at your disposal. There is also a USB 3.0 port which may or may not be useful for storage peripherals.
To connect the PS4 to your TV there is an HDMI socket which is accompanied by audio options such as Analogue AV out and Digital optical output.
PS4 Specifications
Main Processor: Single-chip custom processor
CPU: x86-64 AMD "Jaguar", 8 cores
GPU: 1.84 TFLOPS, AMD next-generation Radeon™ based graphics engine
Memory: GDDR5 8GB
Hard Disk Drive: Built-in
Optical Drive: (read only) BD 6xCAV DVD 8xCAV
I/O: Super-Speed USB (USB 3.0) 、AUX
Communication: Ethernet (10BASE-T, 100BASE-TX, 1000BASE-T), IEEE 802.11 b/g/n, Bluetooth® 2.1 (EDR)
AV output: HDMI, Analog-AV out, Digital Output (optical)
Accessories
Sony Showed off the DualShock 4 which it confirmed incorporates a touch pad on the front surface. The lighting up portion of the controller we thought may be a Move controller component is actually a "light bar". The function of this is as follows "The light bar illuminates to match the color of characters in a game to offer a simpler, more friendly way to identify players, even when playing side by side. The light bar also changes patterns during gameplay to provide useful information to gamers, such as when a character is critically low on health or has taken major damage."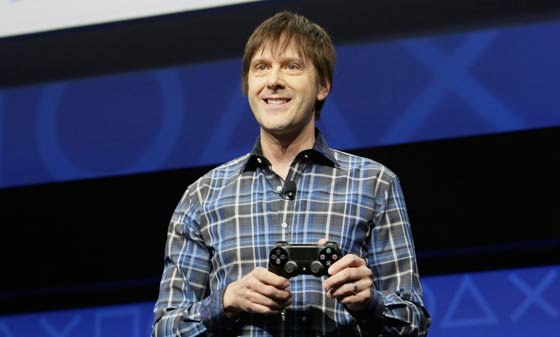 Also the controller has a speaker and individual headset/headphone socket. The share button is present, as rumoured. This button "allows gamers to easily broadcast their gameplay in real-time to friends through internet streaming services such as Ustream. Users can also share their triumphs and accomplishments by uploading video gameplay to Facebook with the "SHARE button". Unlike streaming content via PC, users no longer have to convert data formats of their recorded gameplay, but can share it with ease."
The PlayStation Eye peripheral incorporates two 85-degree wide angle cameras and four microphones. This system will be usable in some games as positioning, sound and graphical data and also allows system login using facial recognition. The PlayStation Eye will also work to refine PlayStation Move controller sensitivity.
Software
The PS4 system will be able to pause and resume mid-game allowing players to smoothly multi-task. There is a chip dedicated to downloads which allows uploads and downloads to continue with the system "off", this system can also allow downloaders to start playing a game even as it is downloading - interesting.
There will be a PlayStation streaming service called "PlayStation Cloud" which will allow users to test games out via a stream, saving a lot of pointless demo downloads. This same streaming service will allow PS1, PS2 and PS3 games to be played on the PS4. (There is no native backwards compatibility) The Cloud service may well be available beyond the confines of the PlayStation Network, hinted the Sony presentation.
The PlayStation 4 will be available in time for "Holiday 2013" which means in time for the Christmas buying rush. Pricing hasn't been indicated.