A new mobile gaming peripheral has recently launched on Kickstarter. It's called the Ringbow and while it has been seen in the news before, the hardware looks a lot more refined and designed now, compared to previous versions we have seen pictures and demonstrations of. The ring gamepad device lets you de-clutter your touch-screen game of virtual buttons and allows faster, more intuitive game control.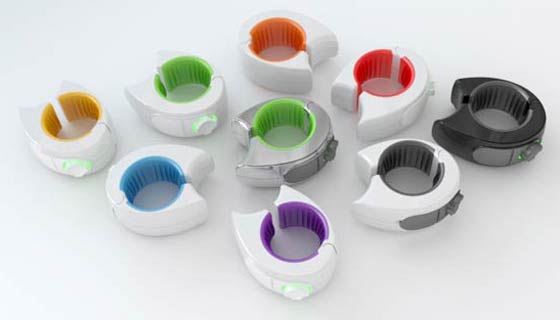 Ringbow fits on the user's finger so, unlike a gamepad which your hands wrap around, your fingers are still available for all the touch screen functions you want to use your fingers for. The Ringbow designers say that "Since touch screens are controlled with fingers, a finger-worn tool, specifically a ring, is the natural choice for complementing them." Furthermore "Ringbow multiplies the functionality of your finger together with allowing amazing simultaneous actions." But they seem to have taken the Ringbow advantages brainstorming session a bit too far when they say "Ringbow lets you free your fingers from your device, leaving your hands available to do whatever you feel like doing: eating a sandwich, drinking a beer, high-fiving your buddy or stroking a puppy."
>
Specification
Compatible with Android ( iOS coming soon) with control panel software included
Requires Bluetooth communication with your device
5 hour battery life
9 direction D-pad button
Adjustable finger size grip
Micro-USB charging port (cable included)
Includes a 4 games package, enhanced for Ringbow
Available for a $45 pledge
Estimated to be released in November if the $100k Kickstarter goal is met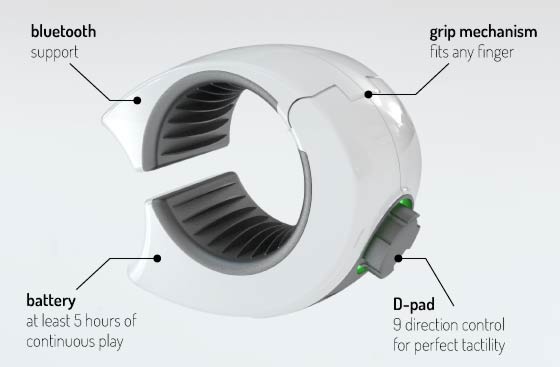 At E3 we saw some gamepad options for tablet and smartphone gamers addressing the lack of physical buttons and controls we are accustomed to using on our games consoles. Ergonomic, easy to use control peripherals are so important to our enjoyment of games yet most new smartphones and tablets like to remain minimal in their hardware buttons and controls, leaving nearly everything to the touch screen interface. The price of the Ringbow does seem quite expensive for such a small gaming controller with a clickable D-pad as the only control. The Nyko PlayPad or the PlayPad Pro might be better, more conventional options for Android users, made in collaboration with Google and NVIDIA. The pricing of the two PlayPads hasn't be announced as yet though.