Rolling-out over the next few weeks, Microsoft has announced Bing's "most significant" update ever. Not unlike Google's 'Search Plus Your World', which indexes content from Google+, the Bing update looks to add social functionality with a revamped semantic search all wrapped into a new UI. What makes this update differ from Google's existing offering, however, is that Microsoft is supporting a large array of social media sites, amongst which are Facebook, Twitter, Google+, LinkedIn, Quora and Foursquare.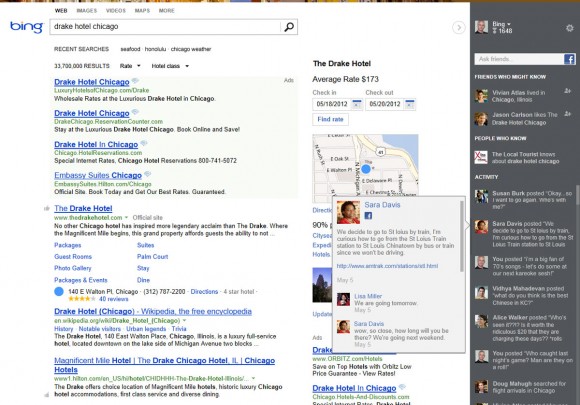 The new UI breaks user searches up into three panes/columns, 'Search Knows', 'Bing Knows' and 'Friends Know', moving from left to right respectively.
Search Knows
The traditional web search we all know and love. This time Microsoft is removing all contextual and social results from the Search Knows column and placing them elsewhere, returning this column to the raw results, which, through a blind survey, Microsoft claims 34 per cent of consumers prefer vs the 28 per cent who favoured Google, an improvement on last year where the tables were turned at 27 and 36 per cent respectively. Whilst such figures sound a little dubious coming from a first party, Microsoft is nonetheless trying to get across the point that its searching algorithms have improved.
Bing Knows
Building on the data-point parsing that Bing first launched with as its unique selling point, this central pane features facts and figures extracted from various review, shopping, booking, weather and maps sites etc. displaying them in an appropriately contextual format. This functionality has existed in Bing for quite some time, however looks further polished when compared against its predecessors. This is also the pane where paid ads will appear.
Friends Know
Appearing suspiciously similar to the new Windows 8 'Start Menu' equivalent, the Friends Know pane gathers information from a multitude of social websites, applying searches to conversations, profiles, status updates and picture album descriptions, attempting to determine if any friends or associated people may know the answer you're seeking, with the pane also listing any potentially related friend activity. This pane doesn't provide any direct answers, simply pointing users to the friends and people who may be helpful and by offering an easy platform with which to contact them despite sources originating from a multitude of different social sites.
Summary
Whilst last time this writer checked, Bing search results still sucked, the new UI looks both attractive and intuitive. By capitalising on Google's weakness of pushing Google+ as its only social element, despite the grand idea to integrate social results into searches, Bing has received a serious leg-up in this area. Ultimately though, it'll all come down to how well the search engine performs in reality, which we'll be able to discover for ourselves in the next few weeks.