Microsoft's overhaul of Hotmail has continued this week with the launch of the second phase of improvements aimed at bringing the web-based email service back into public demand.

Having launch back in 1996, Hotmail swiftly established itself as the premier email service on the Internet, but slipped out of public favour when the likes of Google's Gmail and Yahoo Mail services arrived offering better features, increased storage space and a more streamlined interface.

This week Microsoft has revealed five new features that will be rolled out in the coming weeks and help users clean up their accounts and streamline "graymai'," including the ability to unsubscribe to emails in one-click, schedule clean-ups and flag mail.

These new features, as detailed in full on the Windows Blog, were followed by the launch of the new Hotmail app for Android which has immediately "trended" on the store with over 50,000 downloads. The Hotmail app features the likes of push email, calendar and contact synching and allows you to send pictures as attachments via your phone.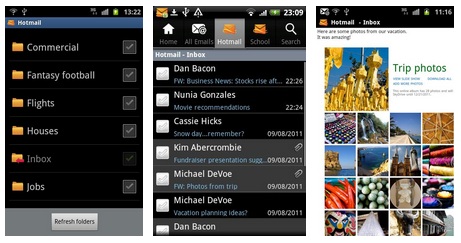 Judging from the reviews of the Android marketplace so far initial reaction is mixed with some Hotmail users praising the app for the simple clean interface while others complain of bugs and lack of features.

Here are some of the reviews so far:

"Not close. This app doesn't cpmpare to the Yahoo or gmail app. Microsofft came close but needs to try again."- Toomuchfortv

"THANKYOU!!! I love ythis app! Push notification works great. I'd really like to see a 'Move T' button when I checkmark items in my inbox." - BRIAN

"Works great. Now I love my Android even more." - Sa'M

"Needs work! Pros1. Push HTML email on android. Cons 1. Poor battery life 2. Needs better message navigation.! - Aashish

Finally, It's been working without problems. I love the app security lock and you can synch folders." –MaC

As this the first version of the app we'd expect Microsoft to fix current issues and add new features over the coming weeks. The final phase of Hotmail's transformation will be completed in early 2012.

Download the official Hotmail app for Android