Competitors are being invited to take part in Pi Hack, a 24 hour challenge "to build something great" incorporating the Raspberry Pi credit card sized computer. Competition entrants may work in teams of up to 4 people, or as individuals. The challenge starts at noon on 1st December at Munro House, Duke Street, Leeds, LS9 8AG. Participants will present their innovations at 2pm on Sunday and prizes will be awarded before 5pm after deliberations by "a panel of stellar judges".
The Raspberry Pi Hack event is organised by CPC and Dom Hodgson. The 24 hour challenge will see 100 competitors attempt to outdo each other by creating something great, software or hardware, utilising a Raspberry Pi computer. "Equipped with just a room, unlimited power, internet access and dinner & breakfast, participants will be asked to test their coding and design skills and develop soft- or hardware using the credit card sized computer. Competitors can work individually or in teams of up to four and are free to solder and electrical hack to their hearts content," says the competition information page.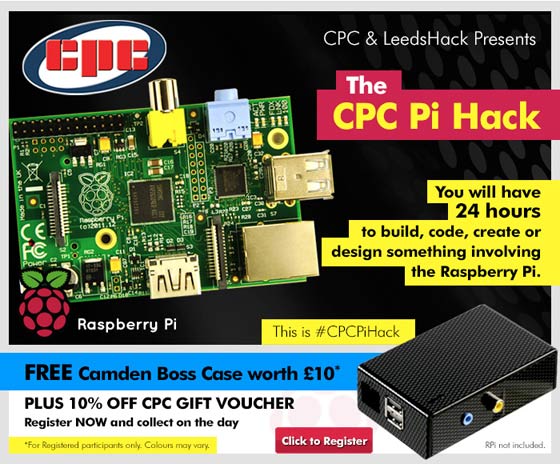 You don't even need to bring your own RasPi as CPC will have 100 units available to purchase on the day, also all qualifying entrants will get a free "Camden Boss" RaspPi case and a 10% off CPC gift voucher.
Winners will be chosen in several categories and these include Best Hardware Hack, Best Software Hack, Best Game, Best Team and Best Individual. As well as the honour of being a champion Pi hacker "best overall" winners will be offered "a personal tour of Sony UKs Raspberry Pi manufacturing facility in Wales". Prizes are also being awarded and these are gadgets from CPC's store including Philips Full HD Pocket Camcorders, Hubsan H107 Quadcopter, Logicom Spy tank, Storage Options 7" Android Tablet PC and Raspberry Pi Plug and Play Kits.
If you are interested go to the CPC Pi Hack registration and information page and register now. You can also register as a visitor if you want to just nose around the activities in Leeds during the day. Registration is free.