Oh Michael Dell, you tease!
The CEO of the world's second largest PC maker is up to his old tricks again by teasing everyone with a brief glimpse of a previously unannounced tablet. While giving a keynote speech at Oracle's OpenWorld conference, Mr Dell pulled out a 7in device that will act as a successor to the Streak, released earlier this year in the UK.
Unfortunately, the CEO didn't go into any details about the tablet, tough did mention that the company is working to constantly evolve its devices to keep pace with the changing needs of users.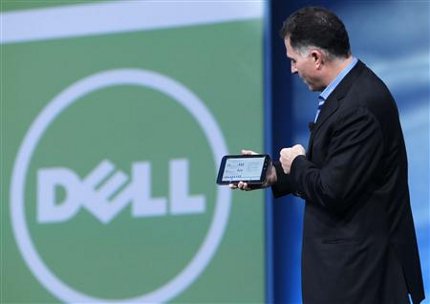 Photo courtesy of Reuters
However, the device does look awfully similar to the 'Looking Glass', which appeared in rumours earlier this year. The tablet was expected to arrive in November powered by the Tegra 2 SoC and running Android 2.1 out of the box. Otherwise, the specs are suggested to be exactly the same as the Streak's, including the relatively low 800x480px resolution.
Of course, the biggest stumbling block might be the operating system. Dell launched the Streak with Google's antiquated Android 1.6 and the promise that an update to Froyo would be forthcoming. However, the company has delayed deploying the newer OS, instead making do with Android 2.1, while the arrival of a further update remains uncertain.
A 7in tablet would seem to make a lot more sense than the 5in Streak, which couldn't quite decide whether or not it was a smartphone. However, It would also see Dell competing directly with Samsung's 7in Galaxy Tab, which is set to launch next month.