Dyson has expanded its range of eye-catching Air Multiplier fans with the introduction of new Tower and Pedestal models.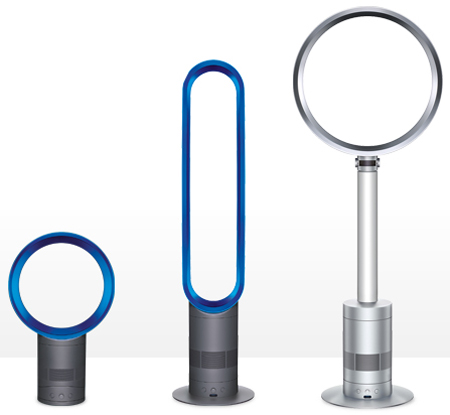 The new additions, pictured above alongside the existing 10in Desk Fan, promise to generate the familiar blade-free airflow without what Dyson describes as "unpleasant buffeting".
The AM02 Tower Fan, available in Iron/Blue or all-Silver finishes, stands at just over a metre tall and draws in 33 litres of air per second. Using Dyson's air acceleration technology, the fans output is then amplified 16 times to provide a strong, steady breeze.
Providing even more gusto, the White/Silver AM03 Pedestal Fan promises 18x air amplification and features a height-adjustable stand that ranges from 1.1m to 1.4m in height. It's also tilt adjustable to 20° in either direction, too.
Both newcomers offer oscillation and various speed controls, and in addition to the on-fan buttons, the AM02 and AM03 come bundled with a useful remote control.
They're as eye-catching as ever, but so's the price. Both the Tower and Pedestal fans will be available soon priced at £299.99.