Sony has at last unveiled the full specs of its first digital SLR stills camera, the DSLR-A100. This 10 megapixel model -

due next month in Europe and elsewhere -

features automatic dust-removal and an in-body image-stabiliser. Also, as has long been known, it will be compatible with the Konica Minolta Maxxum/Dynax lens-mount system.



UK and EU prices have yet to be revealed but in the USA, the body alone carries an SRP of $900. It will also be sold in a $1,000 bundle, the DSLR-A100K kit, that also includes an 18-70mm (f3.5-f5.5) zoom lens.



Update - June 13, 23:15

We've now found out the estimated UK street prices - body only £599; body with standard lens £699; body with twin lens kit £849 - though have been advised by Sony that dealers are, of course, free to set their own prices.




The July launch means that product will be arrive a year after Sony announced its original intention to move into DSLRs and about six months after Konica Minolta - its partner in this joint venture - made the shock announcement that it was effectively handing most of its DSLR assets over to Sony. See this HEXUS.headline - Konica Minolta bails out of wet photography.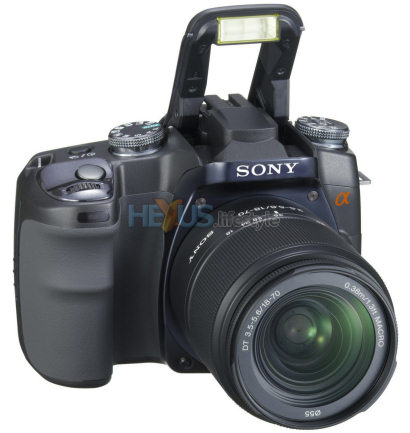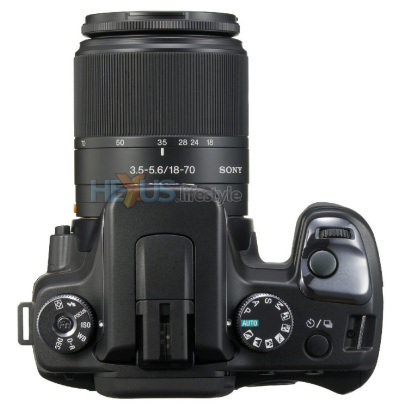 Sony says that the A100 has a number of features that broaden users' creative possibilities while assuring superior results for photographers of all abilities under a wide range of shooting conditions. In the list it includes:



10 Megapixel CCD sensor (

APS-C sized)


This is said to have 10.2 million effective pixels and described as being APS-C sized. It measures 23.6(w)x15.8(h)mm and that, of course, is smaller than 35mm (though a similar aspect ratio) and smaller even than the classic APS-C size of 25(w)x16.7(h)mm.

The CCD sensor is reckoned to deliver crisp, detailed images with a wide tonal range and subtle gradations. It's also claimed to have high sensitivity, high resolution and "exceptional" low-noise performance that guarantees quality even in (unstated) "large print sizes".



Super SteadyShot inside camera body


This image-stabiliser system is within the body of the camera. That should make lenses considerably cheaper to buy than those that have stabilisers built in and also mean that every compatible lens will be able to take advantage of the system. Sony says that the system allows you to successfully shoot at slower than expected shutter speeds - up to 3.5 steps slower - and still be capturing sharp images even when hand-holding the camera in low light.



Anti-Dust Protection System


Dust on the CCD has turned out to be a BIG problem for DSLR users but the Sony features a two-pronged anti-dust system. First, the CCD is coated with anti-static material that's said to reduce the build up of dust. Then, every time the camera is switched off, the CCD is briefly vibrated to dislodge those dust particles that have managed to cling on. The cleaning action can also be carried out from the camera's setup menu.



BIONZ image processing engine


This strangely-named processor - claimed to be newly-developed - is reckoned to optimise the quality of data gathered by the CCD sensor, decreasing noise levels and "ensuring faithful reproduction of vivid, natural colours with rich tonal graduations and exceptional reproduction of the finest detail".



Dynamic Range Optimiser


Another device for maximising picture quality, this is claimed to ensure perfectly-exposed shots even when shooting high-contrast or strongly-backlit scenes. It's said to do this by automatically adjusting the gamma curve and exposure.



2.5in/230K-pixel Clear Photo LCD Plus Screen


Described as, large, bright and easy to view, the 2.5in screen is said to feature Clear Photo LCD Plus technology for "accurate reproduction of fine detail and subtle tones". An anti-reflection coating is reckoned to help out, too. Apparently, the display's orientation automatically switches from landscape to portrait and back as the camera is turned.



Also worth noting:



* The supplied lithium ion battery is claimed to offer 750 shots (CIPA measurement) from a single charge

* Sony reckons that it will have 20-plus own-brand lenses available by the end of the year - including some top-end models with Carl Zeiss optics - and is promising a full-range of accessories, too.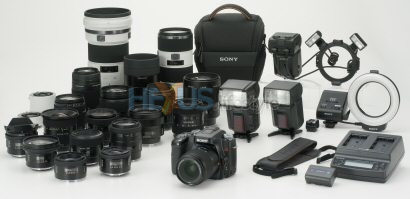 In summary - key features and specifications (from Sony's press-release PDF):



· 10.2 million effective pixels (10 Megapixel) APS-C size CCD Sensor
· Anti-dust protection system
· Super SteadyShot in camera body (switchable)
· Dynamic Range Optimiser
· BIONZ Image Processing Engine
· Maximum sensitivity: 1600 ISO equivalent
· 2.5in 230K pixel Clear Photo LCD Plus Screen with AR coating and Clear Processing for image review and function navigation
· Compatibility with Sonya-mount system lenses, including Sony G lens and Carl Zeiss optics
· Bright Optical Viewfinder with Spherical Acute Matte screen, 20mm eye relief, 0.83x magnification, dioptre adjustment and EyeStart Autofocus.
· High-speed Autofocus with 4 focus modes: Single-shot AF; Direct Manual Focus; AF Automatic; AF Continuous
· Ultra wide AF area with 9 local focus points and central cross-hair sensor
· Centre-weighted, Spot and 40-segment honeycomb pattern metering mode
· Depth of Field preview
· Mode Dial for one-touch selection of exposure shooting modes: AUTO; Programme; Aperture Priority; Shutter Priority; Manual; plus 6 Scene Modes (Portrait, Landscape, Macro, Night View, Sunset, Sports / Action)
· White Balance adjustment: AWB and 6 preset WB with manual colour correction, Colour temperature manual selection with additional 19-step magenta/green with compensation, Custom setting
· High Speed Continuous Advance Shooting up to 3 fps
· Burst shooting: JPEG unlimited, 6 frames RAW, 3 frames RAW+JPEG (dependent on memory card speed)
· Advanced flash modes as high synchronization speed, rear flash, wireless functions and slow synch direct button access on camera
· Ambiance and flash separate exposure compensation scales
· 1600 mAh Lithium ion battery with STAMINA technology for up to 750 shots from single charge (CIPA measurement, 50% usage of built-in flash)
· Built-in Flash plus support for multiple flash modes (Wireless, Slow Synchro, Rear Synchro)
· Dimensions: 94.7 x 133.1 x 71.3 mm (L x W x D)
· Weight: 545g (without battery)
· CF media slot compatible with Type 1/11 (MicroDrive) media; supplied MemoryStick DUO adapter
· Supplied image editing software: (1) Image Data Converter SR Ver.1.1 (2) Picture Motion Browser



NB: Dynamic Range Optimiser Advanced Mode uses technology provided by Apical Ltd.






One little thing to add


Sony made an annoucement in April confirming the summer launch and explaining the significance of the alpha sub-brand name that it had created for DSLRs. But, as you'll have suddenly realised, we've made no mention of that sub-brand until now. Why's that?

Well, even ignoring the fact that the April release was a load of dribbly waffle - alpha, it says, means, "'beginning' and 'essential' ... [and] embodies the spirit of Sony's approach to the D-SLR market" - there's one practical problem. That is the fact that while Sony wants people to call the sub-brand alpha, it also wants to see this written with the Greek lower-case alpha symbol - α - which we've emboldened and enlarged on the next line so you can see it:



α



This is problematic because the alpha symbol isn't directly available on Qwerty keyboards. In addition - and as you can see in the extract below from Sony Europe's DSLR-A100 press release (click for larger version, as with all pics here) - attempting to use alpha in the body of any kind of document that's otherwise in Roman characters just makes what you produce look plain stupid.




And that's a bit like the (presumably highly paid) people who came up with the whole alpha idea - and reminiscent of folk who insist on distributing in PDF format information that you might want to extract for editing. Grrr!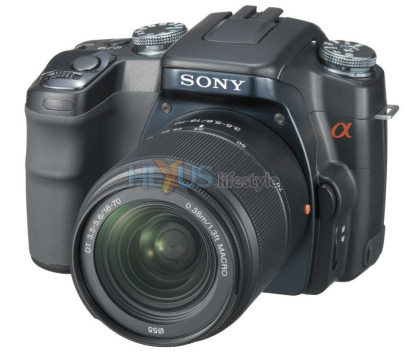 Thoughts on the DSLR-A100 - or on the use of the alpha name or PDFs? Well, feel free to share them in the HEXUS.community.



HEXUS.links



Sony UK - DSLR home page
HEXUS.community - discussion thread about this article
HEXUS.headline - Konica Minolta bails out of wet photography



Update - June 13, 23:15

We've now found out some estimated UK street prices - body only £599; body with "standard" lens £699; body with twin lens kit £849 - though have been advised by Sony that dealers are, of course, free to set their own prices.