It was only four days ago that we reported upon this as a rumour, however it's now official, the ITU has approved the NHK's Super Hi-Vision UHD 4K and 8K broadcasting standard, making this the first and only official world-wide standard for resolutions beyond FHD 1,920 x 1,080.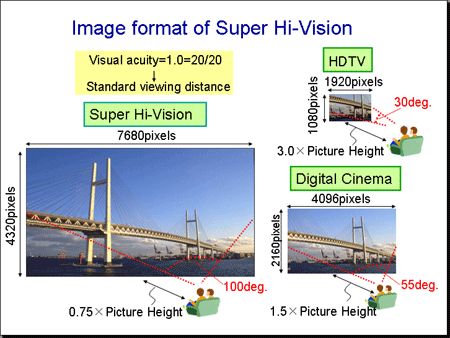 The new specification, now known as ITU-R BT.2020, features provisions for 4K (3,840 x 2,160) and 8K (7,690 x 4,320) 16:9 broadcasts, with support for frame-rates of 120p, 60p, 59.94p, 50p, 30p, 29.97p, 25p, 24p and 23.976p.
It's interesting to note that the now trending 48p frame-rate isn't currently present in the standard, however, it's perhaps even more interesting to realise that interlaced frames have been dropped altogether, hurrah!
Colour depth will be a minimum of 10-bits - something which is only just catching on in H.264 - with 12-bits as an option. Likewise, the new standard will be capable of representing colour ranges beyond that of the current HDTV standard.
Most importantly, adoption of this new standard, or in fact, any UHD standard, means that equipment manufacturers and TV makers have something to standardise their products against, eliminating those nasty phases in early adoption where multiple standards compete with each other, causing consumer confusion.